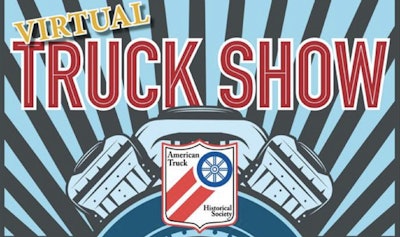 The American Truck Historial Society continues accepting entrants for its first-ever Virtual Truck Show, the deadline for which is Friday, May 15.
ATHS says it has already registered 400 trucks from five countries. It hopes to have 1,000 trucks representing 25 countries. Registration is free.
The online truck show and convention will be held May 28-30.
The society says, "Where ever you are in the world, we want to see your trucks. We want to see your old working trucks, your polished antiques, your rusted-out originals, and everyday drivers. From tractors, trailers to pickups, all your trucks are welcome. Plus, you can enter up to five different trucks per registration."
On April 9, the ATHS announced to its members that this year's national convention and truck show would not be held at the Illinois State Fairgrounds in Springfield May 28-30 as planned because of the COVID-19 coronavirus.
The ATHS cancellation followed the Antique Truck Club of America announcing its 2020 National Meet in Macungie, Pennsylvania was canceled. It was scheduled for June 19 and 20. ATCA said its 50th anniversary show will be held June 18 and 19, 2021.