Like many other great trucking events in this year of the COVID-19 coronavirus, the Great American Trucking Show scheduled for August in Dallas has been canceled.
But, don't despair. Our pals at Overdrive are still holding Several events, not the least of which is the ever-popular Pride & Polish custom truck show.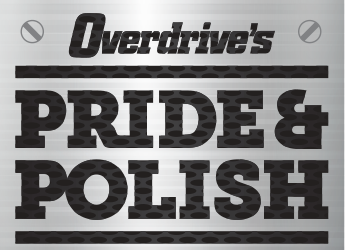 Overdrive is accepting photo submissions for a virtual Pride & Polish. Following the submission deadline, midnight, July 21, they'll post photos for reader voting to determine finalists in five categories. Judges will pick the winners from those.
The winners will be announced Aug. 28 as part of Overdrive's GATS Week, and featured in the October Overdrive. Pride & Polish and some other main events that would have been held at GATS will be scheduled during evenings of Aug. 24-28 and shown at Facebook.com/OverdriveTrucking.
There is no entry fee to compete in Pride & Polish. The brief entry information required and other details are listed at the entry site. All you need is a few good photos, so if you've got your rig looking sharp, consider entering!
The other GATS Week programs are:
Aug. 24, Overdrive's Partners in Business. Catch up on the latest financial benchmarks and forecasts with this presentation from ATBS, the nation's largest owner-operator financial services firm. Partners in Business is sponsored by TBS Factoring Service.
Aug. 25, Overdrive's Partners in Business. Kevin Rutherford and Gary Buchs will discuss the owner-operator market and answer viewers' questions. Rutherford is the host of satellite radio's "Trucking Business & Beyond" and the head of LetsTruck.com. Buchs, named 2016 Owner-Operator of the Year, is now an owner-operator business consultant.
Aug. 26, Hours of service. Joe DeLorenzo, director of enforcement and compliance for the Federal Motor Carrier Safety Administration, will give an update on the new hours rule that takes effect Sept. 29.
Aug. 27, Overdrive's Small Fleet Champ. Finalists will discuss critical business topics, followed by the announcement of the winner. The program is sponsored by Pilot Company's One9 Fuel Network.
Aug. 28, in addition to the Pride & Polish program, three finalists will compete in the Overdrive-Red Eye Radio Trucker Talent Search finale.