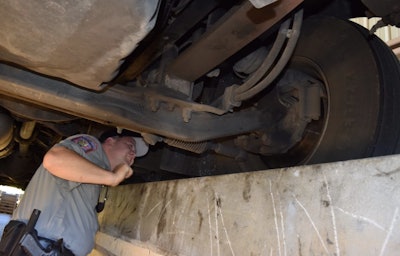 Of the almost 44,000 commercial vehicles inspected during this year's weeklong inspection blitz, more than 5,100 were placed out of service because of brake-related violations.
Releasing results of its annual Brake Safety Week Aug. 23-29, the Commercial Vehicle Safety Alliance showed:
In the U.S., 35,778 inspections were conducted and 4,565 vehicles or 13% were placed out of service for brake-related violations.
In Canada, 1,829 inspections were conducted, and the brake-related out-of-service rate was 14% or 256 trucks.
In Mexico, 6% (355) of the 5,958 commercial motor vehicles inspected were placed out of service for brake-related violations.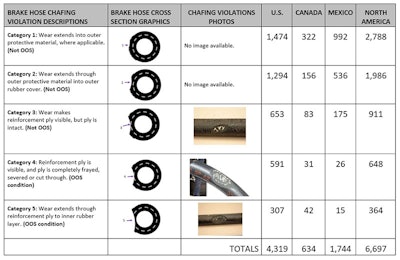 In addition to capturing brake system out-of-service violation data, during this year's Brake Safety Week, inspectors also recorded and submitted data regarding the chafing of brake hoses. Inspectors reported levels of brake hose chafing violations, separated into five categories based on the level of severity; two of which were out-of-service conditions, three were not. A total of 6,697 hose chafing violations were reported.
Vehicles that did not have any out-of-service conditions during a Level I or Level V Inspection may have received a CVSA decal. A decal, valid for up to three months, signifies that the vehicle was recently inspected by a CVSA-certified inspector and that vehicle had no critical vehicle inspection item violations.
Forty-five U.S. jurisdictions, seven Canadian jurisdictions and Mexico's National Guard and the Ministry of Communications and Transportation provided inspection data this year.
Next year's Brake Safety Week is scheduled for Aug. 22-28, 2021.