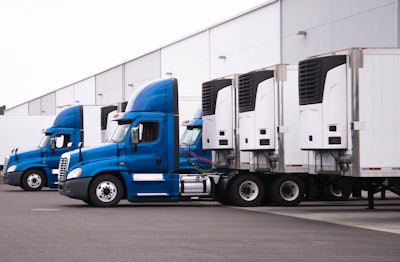 Legislation introduced earlier this week would require reefer units on trailers to be powered electrically instead of with diesel.
Introduced by Sen. Edward J. Markey (D-Mass.) and Rep. Yvette D. Clarke (NY-09), the FREEZER (Fostering and Realizing Electrification by Encouraging Zero Emission Refrigeration) Trucks Act is aimed at reducing local air pollution. It creates a grant program in the Environmental Protection Agency to help fund the switch from diesel to electric refrigeration units on commercial trucks and vans.
Clarke sponsored similar legislation in 2019, which languished in committee.
The act would authorize $30 million that would be used to convert diesel units to electricity and install a charging infrastructure needed to support electrification. The grant program would focus on projects that can maximize public health benefits by serving communities that currently experience the highest levels of diesel pollution across the nation, according to the bill's announcement.
"Refrigerated trucks are ubiquitous in cities like Brooklyn, where they can be seen and heard at all hours of the day and night making deliveries," said Clarke. "While these trucks are a vital component of regional and local economies, they are also major sources of climate-warming emissions and local air pollution in the communities they serve. That is why my legislation with Senator Markey will help replace dirty refrigeration units with clean technology that is better for the environment and our neighborhoods, particularly in communities most impacted by local air pollution."