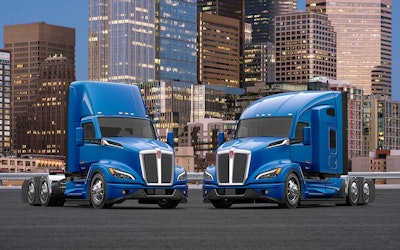 Kenworth rolled out the new generation of its T680 model Thursday, Feb. 11 with a coming-out party streamed live on the internet, a fitting debut for a truck loaded with the latest technology and aerodynamic styling.
The Kenworth T680 Next Generation's technology kit includes a 15-inch digital display, a smart steering wheel, LED headlamps, under-the-vehicle airflow management, additional advanced driver assistance systems, and what the company calls "a sleek high-tech design that balances aerodynamics and serviceability.
The T680 Next Gen includes new aero bumper and hood, turning vanes, durable lower fairing extensions, chassis fairings, wheel well closeouts, 28-inch side extenders, tandem drive axle fairings, and wheel cover to keep the airflow closer to the cab and reduce drag-causing turbulence. The new T680 comes standard with the EPA 2021 PACCAR MX-13 12.9-liter engine and PACCAR Powertrain.
Combined the technology and aero adjustments yield a 6% fuel economy increase over previous similar models.
"The T680 Next Gen hit our design goal of being sleek and sophisticated. We wanted to focus on the aerodynamics, the technology, and the refinement, and make the styling show that is a world-class, high-performance machine," said Jonathan Duncan, Kenworth design director.
Our colleague at Commercial Carrier Journal Chief Editor Jason Cannon was able to test drive the new T680, and you can read his review here