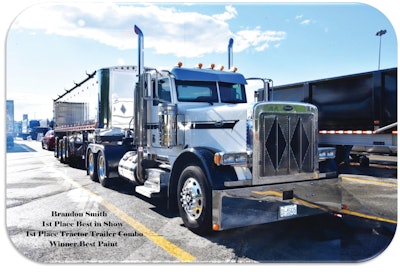 After having to cancel last year's event because of the COVID-19 pandemic, the folks at the Kenly 95 Truck Stop in North Carolina held its eighth annual Truckers Jamboree late last week. It stands as one of the first truck shows to return as states and locales ease restrictions on gatherings.
Brandon Smith's 2006 Peterbilt 379 with an extended hood and 2006 Mac trailer walked off with Best In Show honors, won the Best Paint title, and was first in the tractor/trailer combination class.
Here's a gallery of all the trucks that won awards at the show held May 6, 7, and 8.
Kenly 95 is part of the Iowa 80 Group, and the Walcott Truckers Jamboree is scheduled for July 8, 9, and 10 at the Iowa 80 Truck Stop in Iowa.