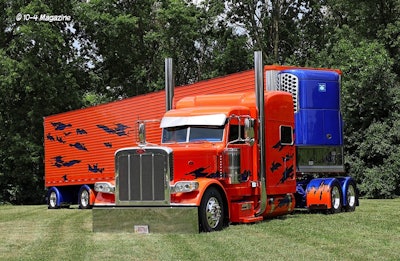 One of the premier truck shows will be held for in-person attendance and will be available online later this month.
The 39th Annual Shell Rotella SuperRigs will be held July 29-31at Love's Travel Stop, in Hampshire, Illinois, which is located right off Route I-90 and US 20.
"The theme for Shell Rotella SuperRigs this year is appropriately Time to Shine as we honor and recognize truck drivers for all their hard work, especially during the challenges faced over the past year and a half," said Heather Wales, North American brand and communications manager for Shell Rotella. "Each year we look forward to seeing the amazing trucks entered, with each a testament to the work ethic of the drivers and demonstrating their pride in the trucking industry."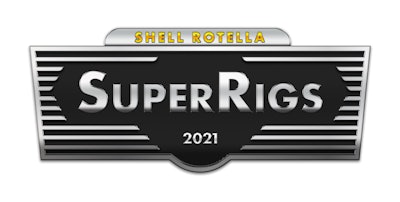 This year, the People's Choice Award will be taking place virtually, opening the competition to truck drivers that are not able to make the show in person. Truck drivers have had the opportunity to submit their rig for a chance to win the Virtual People's Choice Award. Voting for friends, family and fans will be open July 16-30, and the winner will be announced as part of the awards ceremony at SuperRigs. To vote for the Virtual People's Choice Award, visit peopleschoice.rotellasuperrigs.com.
In addition, Shell Rotella will be supporting the first-ever Owner-Operator Independent Drivers Association Go Safely Award. The award will honor the commitment of drivers to keeping themselves and others safe during the pandemic. The award is in conjunction with the Shell Rotella Road to Recovery campaign, which is rooted in championing the virtue of hard work.
There will be a live stream throughout SuperRigs for viewers to tune in virtually and watch the judging lane. Viewers will also be able to watch videos from the Shell Rotella Unsung Series and interviews from past contestants. Mike Gaffin, The Boston Trucker and Shelby, Happiness By The Mile will be emceeing the judging lane throughout the three-day weekend
The Shell Rotella SuperRigs competition awards more than $25,000 in cash and prizes. Eleven drivers will be selected to have their trucks featured in the annual 2022 Shell Rotella SuperRigs calendar. The 12th truck will be the 2016 Peterbilt 389 of Brian Dreher who won Best of Show during the virtual contest held in 2020.
There is no fee to enter a truck in SuperRigs and drivers are encouraged to pre-register online at rotellasuperrigs.com.
Trucks entered in the Shell Rotella SuperRigs truck competition will be judged by experienced industry professionals who work for major trucking publications or broadcast companies. Judges score the rigs on exterior appearance, design, detail/finish, originality and workmanship.