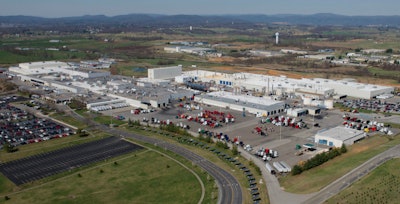 A strike by United Auto Workers at the Volvo truck assembly plant in Dublin, Virginia ended Wednesday, July 14, when members voted to accept the latest contract offer. The union said members would return to work on their Sunday and Monday shifts.
Volvo Trucks North America said the new six-year agreement covers about 2,900 members of UAW Local #2069 at the New River Valley facility. Approval finally came after three previous votes on tentative agreements were rejected.
The Detroit Free Press reports, "the deal includes pay increases, a ratification bonus, elimination of a two-tier wage structure and no increase in health insurance premiums."
"This agreement allows us to continue providing our employees with a great quality of life, with guaranteed wage growth and excellent benefits," said NRV Vice President and General Manager Franky Marchand. "It will also help secure the plant's long-term growth and sustainability. Our focus now will be on getting trucks to customers as quickly as we can, and strengthening our relationship with our employees."
The NRV plant employs more than 3,300 people, about 2,900 of whom are UAW members.
The plant is in the midst of a $400 million investment for advanced technology upgrades, site expansion and preparation for future products, including Volvo's VNR Electric truck.