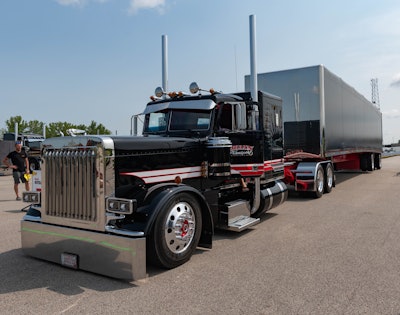 Driver Kiegan Nelson and truck owner Vinnie Diorio of Richfield, Wisconsin captured Best of Show honors with their 2020 Peterbilt 389 at the 39th Annual Shell Rotella SuperRigs competition held July 29-31 at Love's Travel Stop, in Hampshire, Illinois. They were awarded $10,000 from Shell Rotella. Nelson and Diorio also won for Best Interior.
Brian Dreher of Campbellsport, Wisconsin was awarded Best of Show first runner-up for his 2016 Peterbilt 389. He also captured the Best Engine category.
The 2007 Peterbilt 379 of Truett Novosad from College Station, Texas was named Best of Show second runner-up. Novosad also won the Best Chrome and Best Theme categories.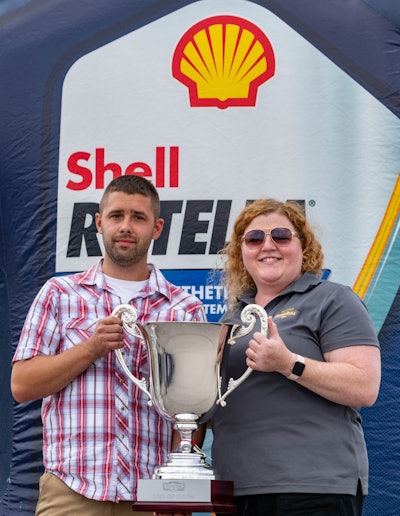 Additional winners included:
Barry Kuhn from Mount Aetna, Pennsylvania in the Tractor/Trailer Division for his 2018 Kenworth W900L.
Shani Lee of Sibley, Louisiana in the Tractor Division with a 2007 Peterbilt 379 Legacy 995.
JR Schleuger from Britt, Iowa won in the Classic Division with his 1985 Kenworth K100E.
Daniel and Phyllis Snow of Harrison, Ark. won the People's Choice Award for their 1996 Freightliner Classic XL
Chris AlbyGenoa City, Wisconsin 2015 Peterbilt 389, Working Truck - Limited Mileage
Danny Kimball Burlington, Wisconsin 2007 Kenworth W900, Best Lights
All winners also received My Miles Matter reward points from Shell Rotella.
The Owner-Operator Independent Drivers Association Go Safely Award was presented to Daniel and Phyllis Snow. The award, supported by Shell Rotella, honors the commitment of drivers to keeping themselves and others safe during the pandemic.
The Shell Rotella SuperRigs competition is a premier truck beauty contest for actively working trucks. Owner/operators from across the United States and Canada compete for cash and prizes valued at some $25,000. Eleven drivers were selected to have their trucks featured in the 2022 Shell Rotella SuperRigs calendar. The 12th truck is the 2016 Peterbilt 389 of Brian Dreher who won Best of Show during the virtual contest held in 2020.