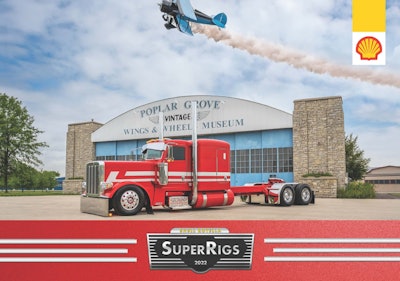 Eleven drivers who entered this year's Shell Rotella SuperRigs truck show in Hampshire, Illinois were selected to have their trucks featured in the annual calendar and were photographed at landmarks in the Hampshire area. The 12th truck is the 2016 Peterbilt 389 of Brian Dreher who won Best of Show during the virtual SuperRigs contest held in 2020.
The 2022 Shell Rotella SuperRigs calendar is now available to be ordered online at srcalendars.com. The calendar tells the stories of 12 drivers who traveled to the Illinois Love's Travel Stop to participate in the annual truck beauty contest. Some highlights of the Shell Rotella SuperRigs calendar include:
JANUARY – Kiegan Nelson from Hartland, Wisconsin is a third-generation driver and second-time Best of Show winner at Shell Rotella SuperRigs with his 2020 Peterbilt 389. He likes working on trucks the way many do with hot rods or motorcycles.
APRIL

– Ben Overton moved to Winnipeg, Manitoba, Canada from New Zealand to drive for Jade Transport. His 2021 Peterbilt 389 Pride & Class features an old-school 359 paint job to match the fleet number.

JULY

– Jimmy Ganski from Shantytown, Wisconsin was flying high after his first time at Shell Rotella SuperRigs. He and his family along with his 2014 Peterbilt 389 not only made the calendar, but are prominently featured on the front cover.

NOVEMBER

–Tony Huttenstine II said he looked at Shell Rotella SuperRigs calendars as a kid and thought "Man, if I could get on it ..." This year, he and Emily Pohl brought their Kenworth W900L that is built around the sleeper and features a mid-90's vibe and secured a place in the calendar.
RELATED NEWS: Working trucks converge on SuperRigs show in Illinois
The Shell Rotella SuperRigs competition is a premier truck beauty contest for actively working trucks. Owner/operator truckers from across the United States and Canada compete annually for more than $25,000 in cash and prizes.