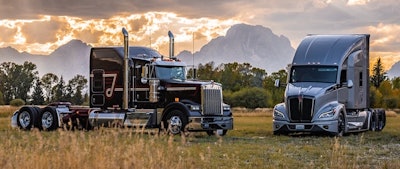 Kenworth
One of trucking's most recognizable -- and longest-lasting -- brands is marking a milestone with the introduction of two special trucks that will be part of a year-long celebration.
Throughout 2023, Kenworth will celebrate the 100th anniversary of its founding. Since Harry W. Kent and Edgar K. Worthington incorporated the Gersix Motor Company as Kenworth in 1923, 1.3 million medium and heavy-duty trucks have been manufactured by the company that got its start serving the logging industry of the Pacific Northwest. The company name was formed from a combination of letters from the founders' last names while the world-renown Kenworth "bug" logo originated from the K in Kent and W in Worthington.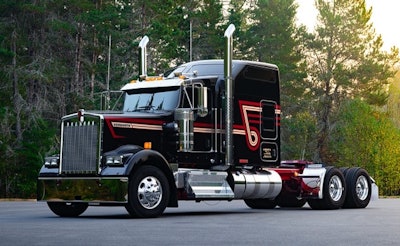 That first year, the small Seattle truck manufacturer produced 78 six-cylinder, gasoline-powered trucks. Since then, Kenworth has produced more than a million Class 5 to Class 8 models, and super heavy-duty trucks, like the C500 6x6 with its gross combination weight rating of 1 million pounds. Kenworth is also now producing medium and heavy-duty battery electric vehicles.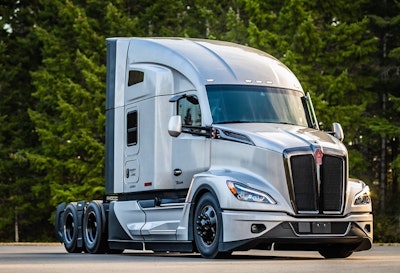 "Kenworth's storied history over the past 100 years provides much to be proud about. From being the first U.S. truck manufacturer to offer a diesel engine as standard equipment in 1933 to selling Kenworth trucks with an electric powertrain today, it's been quite a journey," said Kevin Baney, Kenworth general manager and PACCAR vice president. "We're also especially proud of our leadership in truck aerodynamics with the Kenworth T600 introduction in 1985. That model began the revolution in fuel-efficient trucks and its evolution has tremendously advanced in the new flagship T680 that sets industry standard today in truck aerodynamics."
Part of the celebration of the company's anniversary is the creation of two special trucks:
the Kenworth W900 Limited Edition
the Kenworth T680 Signature Edition
The W900 is available in three configurations – 86-inch Studio Sleeper, 72-inch Flat Top and Extended Day Cab. The all-black Limited Edition Diamond VIT has 100th anniversary accents. Other interior features include a special edition steering wheel, brushed platinum dash and door trim, and Kenworth 100 logos throughout on the doors and thresholds. A Kenworth 100 sofa bed is standard with the 86-inch Studio Sleeper.
Exterior elements include Kenworth 100 sleeper badges. A Kenworth 100 exhaust shield cutout and sun visor are optional. A special optional centennial 3-color paint design brings a classic, impactful look to the W900, and is only available with the 86-inch Studio Sleeper and 72-inch Flat Top.
Just 900 W900 Limited Edition trucks will be built.
The Signature Edition T680 is available with Kenworth's 76-inch mid- and high-roof sleeper configurations. The Signature Edition Diamond VIT features a black interior with legacy red stitching accents throughout the cab and sleeper. The package also includes a Kenworth 100 branded GT703 seat with red accents special brushed platinum dash and door trim, and Kenworth 100 logo stitched into the sleeper back wall.
The special T680's exterior features a black onyx grille and side air intake, and prominent Kenworth 100 badges on the sleeper. An optional Kenworth 100 exhaust shield cutout and black anodized grille mesh are also available on mid-roof configurations. Also optional are new Alcoa stylized wheels with unique spoke patterns in Dura-Bright® and Dura-Black™ finishes.
The Signature Edition T680 will be available during Kenworth's 2023 production run.
Kenworth is also introducing four signature paint colors available on new Kenworth Class 8 and medium-duty trucks. The new colors are Century Platinum, Century Black Red, Century Red and Century Gold.
"Kenworth has remained true to its core values since its founding," said Baney. "We've achieved many amazing accomplishments in our first 100 years. But there's more work to be done at Kenworth as we drive the next 100 years and continue our mission of producing The World's Best trucks."
The special versions of the W900 and T680 will be displayed at numerous trucking events throughout the year. They will be joined by a 1923 model Kenworth still in running condition.