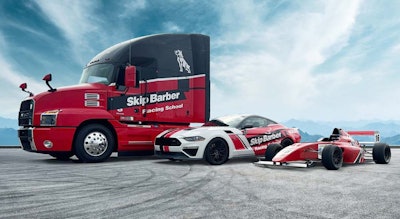 Mack
Mack Trucks announced recently it has signed a three-year partnership with Skip Barber Racing School (SBRS) to be its official hauler.
Mack will provide three Mack Anthem models to Skip Barber Racing to support all divisions of the business, including the Race School, Race Series and Race Team. The Mack Anthem models will haul SBRS trailers containing up to eight vehicles, as well as racing support trailers that have a combination of office space, workspace, parts storage, and additional space for cars.
"We are proud to support Skip Barber Racing, they are long-standing leaders in high-performance racing and driving education and the Mack Anthem will meet their long-haul needs," said David Galbraith, vice president of global brand and marketing for Mack Trucks. "Our focus is building efficient, reliable high-performance trucks, in perfect alignment with the SBRS brand."
All three Mack Anthem models are Viper Red 70-inch stand-up sleeper models with full aerodynamic fairings package including side, roof, and chassis coverage for improved aerodynamics. They are powered by the efficient Mack MP 8HE engine with 445 horsepower and 1,860 lb.-ft. of torque. Transferring that power to the wheels is a Mack mDRIVE 12-speed automated manual transmission.
The first Mack Anthem has been delivered to SBRS and can be seen hauling custom-wrapped SBRS trailers between tracks for the various racing events. The remaining two trucks will be delivered to SBRS in the second quarter of 2023.