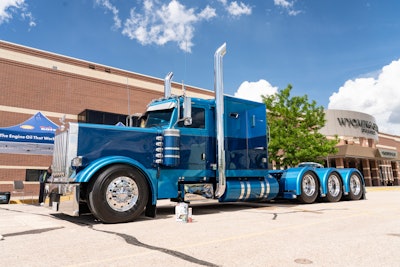 Shell Rotella
Truett and Crystal Novosad of College Station, Texas captured Best of Show honors with their 2007 Peterbilt 379 EXHD at the 41st Anniversary Shell Rotella SuperRigs competition held June 8-10 in Gillette, Wyoming. They were awarded $10,000 from Shell Rotella. In addition, the truck won the Steve Sturgess Best Theme award for its "Doc Holiday" theme.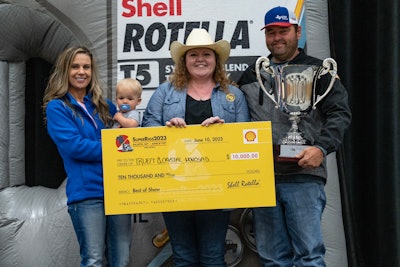 Mark Aragon from Lasalle, Colorado won Best of Show first runner-up and $4,000 for his 2003 Peterbilt 379 EXHD called Slammed Distraction. Ben Overton of Winnipeg, Manitoba, Canada was awarded Best of Show second runner-up for his 2020 Kenworth W9B.
Additional first place winners included:
Cody Davis from Cokeville, Wyoming in the Tractor/Trailer Division and Best Lights for his 2022 Kenworth W900L
Patrick Lahr from Denison, Iowa in the Tractor Division with a 2022 Peterbilt 389
Clyde Green from Cheyenne, Wyo. won the Classic Division with his 1982 Kenworth W900 A
Cody Davis also won the People's Choice Award. The winner was selected virtually with voting taking place online. This year, $1 for every People's Choice vote tallied Shell Rotella donated to the St. Christopher Truckers Relief Fund.
The Shell Rotella SuperRigs competition is the premier truck beauty contest for actively working trucks. Owner/operator truckers from across the United States and Canada compete for cash and prizes valued at approximately $25,000. All winners also received a case of Shell Rotella T5 10W-30 Synthetic Blend engine oil and MyMilesMatter award points. Twelve drivers were also selected to have their truck featured in the 2024 Shell Rotella SuperRigs calendar.
Complete 2023 Shell Rotella SuperRigs Results include:
Best of Show
Truett & Crystal Novosad, College Station, Texas, 2007 Peterbilt 379; $10,000 from Shell Rotella and a place in the 2024 Rotella SuperRigs Calendar
Best of Show 1st Runner Up
Mark Aragon, Lasalle, Colorado, 2003 Peterbilt 379 EXHD; $4,000 from Shell Rotella
Best of Show 2nd Runner Up
Ben Overton, Winnipeg, Manitoba, Canada, 2020 Kenworth W9B; $2,000 from Shell Rotella
Non-Working/Show Truck
Truett & Crystal Novosad, College Station, Texas, 1984 Peterbilt 359; $250 from Shell Rotella
1st Place Classic Division
Clyde Green, Cheyenne, Wyoming, 1982 Kenworth W900 A; $1,500 from Shell Rotella
2nd Place Classic Division
JR Schleuger, Britt, Iowa, 1984 Kenworth W900 B; $1,000 from Shell Rotella
3rd Place Classic Division
Daniel & Phyllis Snow, Harrison, Arkansas, 1996 Freightliner Classic XL; $750 from Shell Rotella
1st Place Working Truck - Limited Mileage
Dennis Harris, Peshtigo, Wisconsin, 2022 Kenworth W900; $1,500 from Shell Rotella
2nd Place Working Truck - Limited Mileage
Barry Kasdorf, Winnipeg, Manitoba, Canada, 2023 Peterbilt 389X; $1,000 from Shell Rotella
3rd Place Working Truck - Limited Mileage
John Fabris, Belle Fourche, South Dakota, 2018 Kenworth T880, $750 from Shell Rotella
1st Place Tractor Division
Patrick Lahr, Denison, Iowa, 2022 Peterbilt 389; $1,500 from Shell Rotella
2nd Place Tractor Division
Truett Novosad, College Station, Texas, 2007 Peterbilt 379; $1,000 from Shell Rotella
3rd Place Tractor Division
Richard Rukstalis, Morton, Illinois, 2018 Kenworth T680; $750 from Shell Rotella
1st Place Tractor/Trailer Division
Cody Davis, Cokeville, Wyoming, 2022 Kenworth W900L; $1,500 from Shell Rotella
2nd Place Tractor/Trailer Division
Jake Bast, Shoshone, Idaho, 2001 Peterbilt 379; $1,000 from Shell Rotella
3rd Place Tractor/Trailer Division
Nichole Cheek, Rozet, Wyoming, 2008 Peterbilt 389; $750 from Shell Rotella
Best Engine
Ben Overton, Winnipeg, Manitoba, Canada; 2022 Kenworth W9B
Best Chrome
Cody Davis Cokeville, Wyoming, 2022 Kenworth W900L
Steve Sturgess Best Theme Award
Truett and Crystal Novosad, College Station, Texas, 2007 Peterbilt 379
Best Interior
Richard Rukstalis, Morton, Illinois, 2018 Kenworth T680
Best Lights
Cody Davis, Cokeville, Wyoming, 2022 Kenworth W900L
People's Choice
Cody Davis, Cokeville, Wyoming, 2022 Kenworth W900L; $250 from Shell Rotella