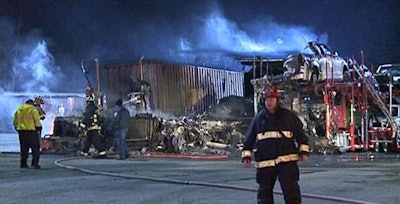 Three tractor-trailers, including a loaded car hauler, were destroyed in a fire early this morning at the Petro in Weathersfield, Ohio near Youngstown. Firefighters returned at about 8 a.m. to extinguish a small reignition.
There were no injuries reported in connection with the blaze.
WKBN-TV reports the fire began at about 12:10 a.m. today. A fire started in one truck and spread to two others, according to reports.
The TV report said Tony Price, from Kensington, Pennsylvania pulled one person from the burning truck:
"I started waking everybody up, getting them out of there," Price said. "I was banging on his truck and he comes popping out while his truck is on fire. That was it. It was just a bunch of flames everywhere."