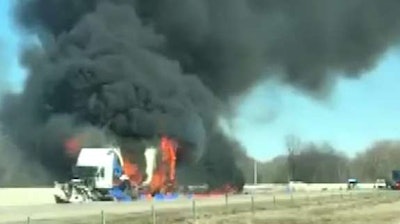 A truck driver was injured and his truck burned after it was struck by one of two vehicles involved in a road rage incident on State Route 37 in central Ohio Feb 26.
Richard Davis, 65, of Coshocton, Ohio, was taken to a local hospital with minor after his truck was struck by a 1993 Acura CL driven by Michael Hayden, 38, of Newark, Ohio. Hayden was pronounced dead at the scene, according to media reports.
The Ohio State Patrol told the Newark Advocate Hayden was passing traffic at a high rate of speed on the left shoulder of highway while Larry Madden, 58, of Heath, Ohio was driving a 2015 GMC Canyon on the right shoulder, also at high speeds. The two vehicles eventually collided and Hayden's crossed into the westbound lanes, striking Davis' tractor-trailer.
A state trooper told the Advocate it was believed road rage precipitated the collisions, which occurred in Granville Township northeast of Columbus.
The crash remains under investigation.