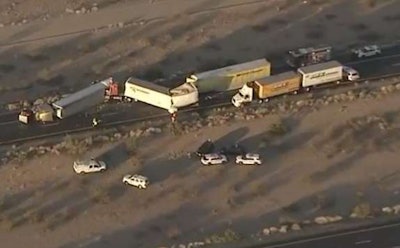 FOX 10 News in Phoenix is reporting that one driver was killed this morning in a multi-truck crash on eastbound I-10 at mile marker 80 west of Tonopah.
The Arizona Department of Public Safety said the wreck occurred when a tractor-trailer rolled over. A second semi was able to stop and avoid the first truck, but a third truck hit the second one, driving it into the first. The driver of the third truck was killed, according to the DPS, which added that impact caused injuries to the second truck's driver.
The names of the drivers involved were not released.