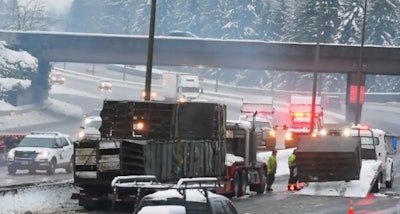 A tractor-trailer hauling live chickens crashed on northbound Interstate 5 in Olympia, Washington early Monday, blocking several lanes in both directions.
Some of the chickens were killed in the crash, which occurred when the tractor-trailer struck a concrete barrier. Many chickens escaped.
The driver was not injured but was cited for an alleged left-lane violation and negligent driving for driving too fast for weather conditions, according to The News Tribune.