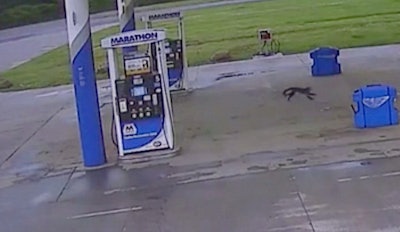 In today's edition of Animal Planet Meets Truckers News, Curious George visits a truck stop, and a truckload of pollinators has their trip interrupted.
A 5-year-old Capuchin monkey named Teeko, escaped from his home in Braceville Township, Ohio northwest of Youngstown Sunday, June 9 and spent much of his free time Monday, June 10, at a Marathon truck stop. While not quite King Kong, Teeko was reported to be scampering between parked trucks and being aggressive toward truckers and those who wanted to capture him. Eventually, Teeko's owner arrived, secured the slippery simian and took him home.
Meanwhile, in Montana, a truckload of bees en route from California to North Dakota Monday crashed. Only a handful of the 40,000 pounds of bees escaped. No injuries were reported and no cause for the accident disclosed.
Truck bound for North Dakota carrying 40,000 lbs of bees crashes on Durston Rd near Gooch Hill Rd in #Bozeman. Road is closed temporarily. Two in truck were NOT hurt. @KBZK pic.twitter.com/VU83F1hJcs

— Cody Boyer (@NewsManBoyer) June 11, 2019
As of 10:30, Durston Rd is open again following this incident. @KBZKhttps://t.co/GPoloGYBLh

— Cody Boyer (@NewsManBoyer) June 11, 2019