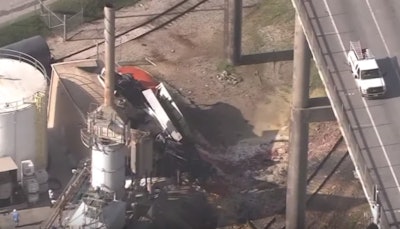 A trucker died Wednesday morning, July 3, when the tractor-trailer he was driving plunged off a bridge in Houston and landed on a chemical plant below.
Reports say the trucker swerved to avoid a vehicle that cut him off in traffic on the Ship Channel Bridge on the East Loop of Interstate 610. It fell about 150 feet onto a building said to be owned by Huntsman International and located on Concrete Drive.
The identity of the driver was not released.
This is the second such crash in the last week in and around Houston. On June 27, a tractor-trailer crashed off a bridge on Interstate 10 in Channelview, Texas and landed in the San Jacinto River. The driver in that crash also died.