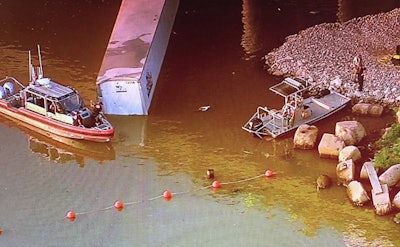 Authorities in Channelview, Texas east of Houston are searching for the driver of a tractor-trailer that plunged off Interstate 10 and into the San Jacinto River in the early morning hours today.
The crash occurred at about 3:45 a.m. when an eastbound tractor-trailer and a Chevrolet Cavalier collided. The truck continued on, but the Cavalier spun around and came to a stop facing eastbound but with no lights on. It was then struck by a second tractor-trailer, which broke through a guardrail and fell into the river some 30 feet below.
The Harris County Sheriff's Department was being assisted by the Coast Guard in the search for the driver of the second tractor-trailer.
The Houston Chronicle reports that authorities fear the trucker died in the crash. The occupants of the Cavalier were not seriously injured.
BREAKING: An 18-wheeler crashed off I-10 into the San Jacinto River near Houston early Thursday morning. I-10 West into is closed and deputies are re-routing drivers. A search is underway for the the driver of the big rig. Investigators say there's no sign he was able to escape. pic.twitter.com/EFlR4UCH0F

— Fox 4 (@fox4beaumont) June 27, 2019
#UPDATE: Multiple agencies, including the US Coast Guard, are working to recover the driver of the 18-wheeler that plunged into the San Jacinto River. The sheriff says they'll use a crane to lift the truck out of the water. It'll be hours before it's complete. @KPRC2 #kprc2 pic.twitter.com/1z7XHTH7Sl

— KPRC Cathy Hernandez (@KPRC2Cathy) June 27, 2019