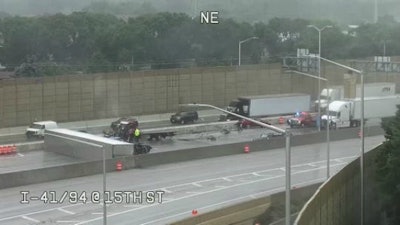 Somehow everyone involved in a dramatic crash on southbound Interstate 43 in Milwaukee Monday, Aug. 26 made it out alive. The driver of the semi, however, received two tickets.
A Milwaukee County Sheriff's Office news release said Ali Z. Abubakar was driving his tractor-trailer southbound on I-43 North at about 11:15 a.m. when he struck a tow truck that had responded to an earlier crash. The crash was captured on the dashcam of a sheriff's deputy's car.
The tow truck driver had to be cut out of his vehicle and was taken to a nearby hospital for serious but non-life-threatening injuries.
Abubakar was cited for driving too fast for conditions and failure to keep a vehicle under control.
Fair warning, this video shows a rather graphic collision as it happened.