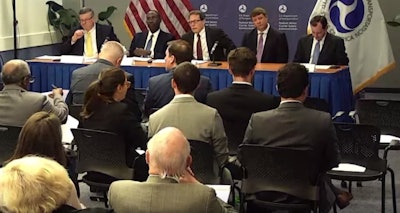 Federal regulators Tuesday, Sept. 17, were once again listening to concerns the trucking industry and others have about the changes to hours of service regulations being proposed. The Federal Motor Carrier Safety Administration held its second listening session at the Department of Transportation headquarters in Washington, D.C.
The proposed changes, which were announced about a month ago, would, among other things, allow truck drivers more flexibility with their 30-minute rest break, as well as how they divide their time in the sleeper berth. It also would extend the short-haul on-duty period from 12 hours to 14 hours and lengthen the distance limit in which drivers can operate from 100 air miles to 150 air miles. There is also a provision to allow a two-hour extension of the driving day if drivers face congestion or bad weather.
A similar listening session was held last month at the Great American Trucking Show in Dallas.
Comments about the proposed changes may be made online until Oct. 7.
Here's the video from yesterday's session.