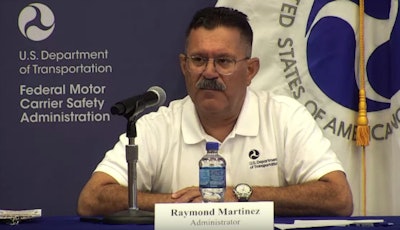 For the second straight year, top officials of the Federal Motor Carrier Safety Administration attended the Great American Trucking Show in Dallas and listened to comments from truckers and others in the trucking industry. On Friday, Aug. 23 those officials were interested in what people had to say about proposed hours of service rules changes.
Our colleague at Overdrive Senior Editor James Jaillet covered the listening session and, in part, wrote:
The session was much more relaxed than the listening session held at least year's Great American Trucking Show when the agency was accepting public comments on whether to take up an hours of service reform rule and what should be included if so. Last GATS, the meeting room where the listening session was held was packed from the onset. This year, in the same room, there were plenty of empty seats as the session began, with drivers coming and going through the two-hour session. A few dozen drivers made oral comments at the meeting, and FMCSA read several written comments filed for the meeting. Also, several truckers provided oral comments via the live webcast.
The public comment period for the agency's hours proposal ends Oct. 7, and comments can be filed at this link.
FMCSA will hold a second listening session in September in Washington, D.C., at DOT's headquarters. The dates and times for that session have not been announced yet.
You can read Jaillet's complete story on Overdrive.
Or, you can watch the entire two-hour session on this video: