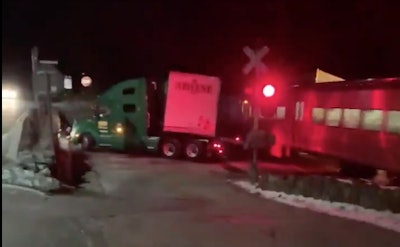 Hard as it is to believe, no one was injured Tuesday, Jan. 21, evening when a New Jersey commuter train struck a tractor-trailer stuck on railroad tracks between Tuxedo and Sloatsburg, New York. Reports of the collision say the tractor-trailer was attempting a right turn on a street near Route 17 at about 6:30 p.m. when it was hit by the train.
The unidentified driver of the truck exited the cab before his rig was hit. No one on the train was injured,
The rail line was closed to traffic for about two hours.
Whoa!! Cell phone video captures moment of impact when train hits tractor trailer stuck on tracks in Sloatsburg - looks like it just cuts right through @NBCNewYork pic.twitter.com/XmiNLrGTlN

— Anjali Hemphill (@AnjaliHemphill) January 22, 2020
Tight squeeze for @NJTRANSIT trains as they slowly roll by accident on the tracks in Sloatsburg where witnesses say a tractor trailer full of printer ink got stuck on the tracks and was hit & sliced in half by a passing train. No injuries @NBCNewYork pic.twitter.com/pWXF2ObTgc

— Anjali Hemphill (@AnjaliHemphill) January 22, 2020
Great job @njtransitpolice & @Ramapo_PD for such a quick response to the train accident. The Train collided with a tractor trailer between Sloatsburg & Tuxedo, N.Y. No injuries reported! Ramapo went out of their way & transported people in their patrol cars to different stations. pic.twitter.com/K5mQTWkMpR

— NYPD Housing PSA 4 (@NYPDPSA4) January 22, 2020