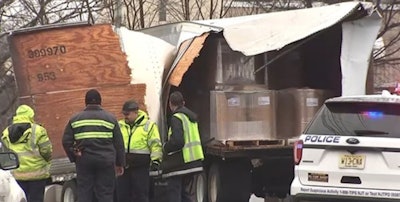 A New Jersey Transit train crashed into a tractor-trailer Tuesday morning, Jan. 11.
The incident took place in Middlesex just after 6:30 a.m. The truck driver and the 340 passengers on the train were uninjured. The train was headed to Newark about 25 miles northeast of the crash site.
According to reports about the crash, the truck stopped between a pair of NJ Transit tracks. It appears the driver misjudged where the end of the trailer was and it was hit by the commuter train. The crash is the second in just five weeks at the Cedar Avenue crossing.
In early January, a crash between an NJ Transit train and a car killed the two women inside the vehicle.
Tight squeeze for @NJTRANSIT trains as they slowly roll by accident on the tracks in Sloatsburg where witnesses say a tractor trailer full of printer ink got stuck on the tracks and was hit & sliced in half by a passing train. No injuries @NBCNewYork pic.twitter.com/pWXF2ObTgc

— Anjali Hemphill (@AnjaliHemphill) January 22, 2020