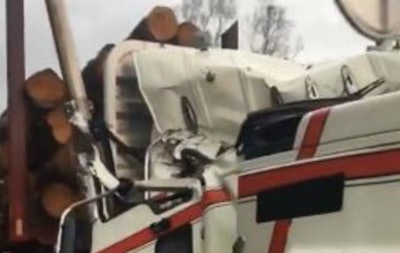 Somehow a truck driver escaped serious injury Saturday, Feb. 8, afternoon when a tree fell on the cab of his truck as he drove down the highway.
The Georgia Department of Transportation reports the accident happened along Highway 90 just past Cedar Creek Road in Macon County, Georgia, which is about 120 miles south of Atlanta.
A post to Facebook by Byromville Fire Rescue shows the cab of the truck badly damaged. The truck's trailer was loaded with logs at the time of the mishap. The driver was not identified.