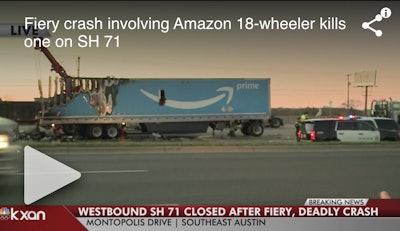 The driver of an SUV died when their vehicle crashed into a tractor-trailer parked on the shoulder of a Texas highway this morning, Feb. 1.
Police say the semi was parked on the shoulder of State Highway 71 in Austin when the SUV hit it at what they called "a very high rate of speed" and burst into flames under the trailer.
The crash occurred at about 2 a.m. The driver of the truck was uninjured. Police did not report why the truck was stopped.
Westbound SH 71 was closed for several hours.