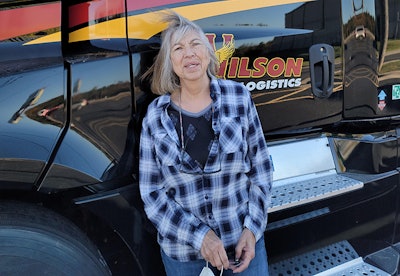 Editor's Note: This is the first of two features about this year's finalists for the 2020 Company Driver of the Year Award presented by the Truckload Carriers Association and Truckers News. The award is sponsored by Love's Travel Stops and Cummins. A story about Dennis Cravener, the other finalist from Virginia Beach, Virginia, and a driver for Givens Transportation will publish soon.
___
Come August, Betty Aragon turns 74 years old and will begin her 44th year in the trucking industry, but she has no plans to retire. She tried that once before and didn't care for it so returned to the road and has been driving ever since.
A company driver for Wilson Logistics, Inc. based in Springfield, Missouri, Aragon said she retired at 65 as many folks do. She says being at home allowed her to enjoy one of her passions she couldn't while on the road: gardening. She says she had five garden plots and a large greenhouse her son built for her. Aragon, who lives in Tucumcari, New Mexico, says she also enjoyed being around her three children and her grandchildren, "and I really enjoyed it, but this driving a truck is a lot better."
Trucking has been a literal lifesaver for Aragon, using it to escape an abusive first marriage. Her father fronted her the money to make a downpayment on her first truck and her lengthy and successful career was launched.
Aragon was 30 years old when she started driving, "an old-timer already to begin with," says Aragon. She had two sons, 10 and 12 years old, and said, " I would pick them up and bring them with me every time that they had time off from school. They were with me on all their school breaks. They were in the truck with me all the rest of the time." Otherwise, her parents took care of the boys when she was on the road during the school year.
Those were far different times for women and for the trucking industry.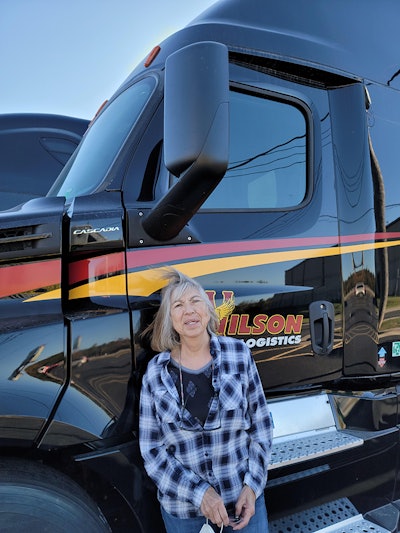 "Oh yeah," agrees Aragon. "It was, it was a strange situation when I first went out. I never noticed it because I was raised not to be prejudiced or anything (having been raised) around men and all the boys in the family. And so to me it was normal to be out there and not with all the guys."
But Aragon quickly caught on that it was different for women.
"I found out it was totally different," she says. "There were no showers for women and some places that I would go to eat were really prejudiced. They wouldn't serve me because I was a woman."
Aragon started her driving career in what she called a "little bitty" 1979 International cabover with 44,000 miles on it.
"That little truck would go like you would not believe," says Aragon, who early on drove for North American Van Lines. "So I made a lot of money the first few years."
Like most other drivers, Aragon switched jobs and what she was hauling, spending time at Crete Carriers and then Earl L. Henderson. It was while she was at Henderson that a former colleague there had gone to work at Wilson Logistics. He called and said to her, "You need to come over here. This is a good place to come to work," she recalls. "And, I said, 'Okay. Pick me up and drop me off over there.' And he brought me over here and I've been here since 1998." Aragon says she's glad she made the switch. So is Darrell Wilson, the man whose name is on the side of all that company's trucks.
He recalls Aragon coming into his office, and how she seemed to fit in with the company and what Wilson sought in drivers. And, it got even better as the years went on.
"I remember when we brought her on it, and she's been a jewel ever since," says Wilson. "We really, really enjoy her. My whole family loves Betty. My children. My wife. She's part of the family. She's a genuine person. She puts people first. She puts her job before herself and she puts other people before herself."
That's why Aragon is a good driver and why Wilson says she's a good candidate for the Company Driver of the Year Award.
"You know, this is an industry that demands you put everything else before yourself," says Wilson. "If you say, 'Me first,' in this industry, you're probably not going to be a happy person.
"She strives to do a good job. She's safe. She's one of those drivers who came along before e-logs and before CSA, back to having a chauffeur's license and not a CDL. I've got respect for drivers who made all the evolutions and checked every box and reinvented themselves to be what a true driver looks like today. Not just a driver's who hung on and is still here, but who's as current with what's going on as you can get."
Wilson says he and his company will miss Aragon when she does decide to hang up the keys, but adds he, his family and others at the company will wish her well for her years of service.
So, when will the second, and possibly final retirement occur for Aragon?
"I don't know. I have no idea what's going to happen," she says. "But, my first ex-husband said, 'You're never going to quit driving truck. You're going to die in a truck because you'll never get out of the truck.' I don't know. Hey, I'm only 73. I haven't got to the top of the hill yet.
"I figure if I've done this many years, going uphill, I have that many to go downhill, I got a long ways to go. My health has always been good. So God willing, I'll stay."
And, Aragon says she'll stay not just because it's a good job. It's more than that.
"It's not a job," says Aragon. "I always said that when it becomes a job, that's a day you get off the road. If it becomes a job then you're not enjoying it anymore. And I still do, I'm going places that I've never been to before. I'm still going down roads that I've never been on before.
"I have seen the entire United States from one end to the other and more than once. So I still enjoy what I do. And it's a little bit hard (these days) because you don't get to visit with all the people like you used to before, you know."
___
Three finalists were also named for the Owner/Operator of the Year Award given by TCA and Overdrive. They are:
Glen Horack

, of Elkland, Missouri who is leased to Prime Inc. based in Springfield, Missouri

Bryan Smith

, of Asbury, Iowa, who is leased to Tucker Freight Lines, based in Dubuque, Iowa

Douglas Schildgen

, of Waterloo, Iowa, who is leased to Warren Transport, Inc. based also in Waterloo, Iowa
Both contests are sponsored by Love's Travel Stops and Cummins, Inc.
The grand prize winners each receive $25,000, and the other finalists receive $2,500.
Winners will be announced at Truckload 2021: Las Vegas, TCA's annual convention to be held Sept. 24-26 at the Wynn Resort in Las Vegas and online.