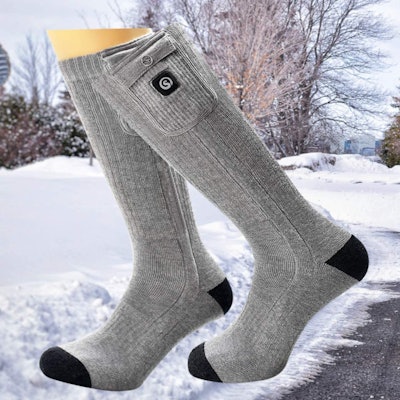 Unprecedented winter weather has taken over much of the U.S. this week, leaving millions without heat and electricity and many highways snow-covered and slippery. The weather has also left some truckers struggling to complete their runs or waiting out the latest storm at a truck stop.
So staying warm these days is not easy, even for the best-prepared of professional truckers. That's why it makes sense to have pair of these heated socks by Snow Deers. Their 7.4-volt battery packs let you adjust the heat level to high, medium or low depending on just how chilly your feet are.
Snow Deers are made of medium-weight fabric (80% cotton, 12% polyester, 8% Elastane material) with reinforced toes and heels to keep heat from escaping. They come in unisex sizes of S, M, L, XL and are ideal for the flatbedder or bullhauler who has to be in and out of the truck and the cold.