While National Truck Driver Appreciation Week is Sept. 11-17, RoadPro is celebrating for the entire month.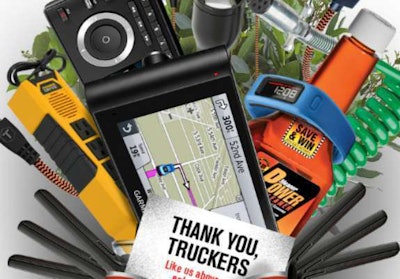 RoadPro has partnered with a variety of brands to give truckers a chance to win prizes every day, in September. Professional drivers are invited to enter the RoadPro and Friends Trucker Appreciation Prize-a-Day Giveaway. In addition to RoadPro, daily prizes will include products from brands like SiriusXM, Globetech, Garmin, Howes, FPPF, Plantronics and ToughTested.
To enter, visit the RoadPro Brands Facebook page.
Additionally, RoadPro Professional Driver Council members and the sales team will be handing out RoadPro trucker hats to any professional driver they encounter.
"Thank you, truckers for all you do," says Charles White, vice president of Brands and Marketing for the RoadPro Family of Brands. "While we are always focused on products that bring the comforts of home to road for professional drivers, this month is a perfect time to give truckers a fun, engaging way to win these products that will help keep them, safe, comfortable and connected while on-the-go."
RoadPro will also debut a trucker appreciation video next week.