Rand McNally Thursday unveiled updates to three of its product lines:
the TND GPS device
OverDryve Pro dashboard device
DC 200 ELD bring-your-own-device connector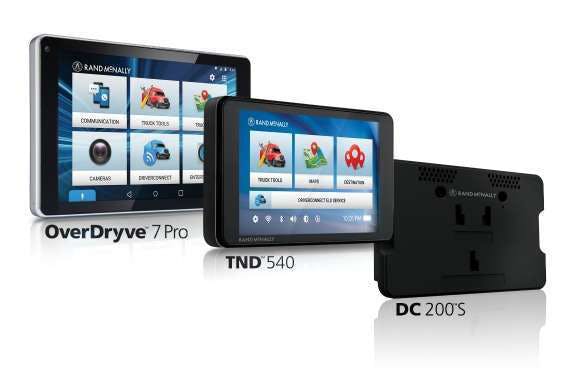 The new devices were shown off at the Great American trucking show in Dallas. The show runs through Saturday at 4 p.m.
The company's fifth-generation TND device, the TND 540, will replace the TND 530 and features twice the storage capacity, a higher-resolution 5-inch screen, updated maps and user interface and more. The device is also ELD-ready, and can be paired with the company's ELD 50 and DC 200. The TND 540 is expected to ship in early September at $299.99.
The new OverDryve Pro device, the OverDryve Pro 7 offers the same features as the OverDryve Pro 8 announced earlier this year, but features a 7-inch screen instead of an 8-inch screen at a lower price point of $499.99, rather than the OverDryve Pro 8's $599.99. The device has a built-in SiriusXM receiver, along with a built-in dash cam and more.
Rand McNally also released an update to its DC 200, the DC 200 S, which is compatible with the company's TND 740, which was released earlier this year. The device replaces the original mount for the TND 740 and plugs into the truck's ECM to become an FMCSA-compliant ELD. It transmits logs to a back-end portal, which stores up to six months of log history. It also allows drivers to view and certify logs, complete inspection reports and more.
"Our focus is to constantly innovate and develop new products that help streamline the daily drives and businesses of professional drivers," said Stephen Fletcher, CEO of Rand McNally. "This most recent expansion of our portfolio provides options that meet head-on new regulations, increased safety requirements, and the wishes of drivers looking for ways to make their on-duty and off-duty time more enjoyable."