Hogebuilt, a Tennessee-based maker of premium fenders for the trucking industry, is celebrating its 75th year in business.
In honor of its diamond anniversary, Hogebuilt will hold several customer and internal promotional events and activities throughout the rest of the year.
Founded in 1944, Hogebuilt has grown from one worker making small trailer fenders in California, to a family of workers handcrafting heavy-duty truck fenders for the entire trucking industry.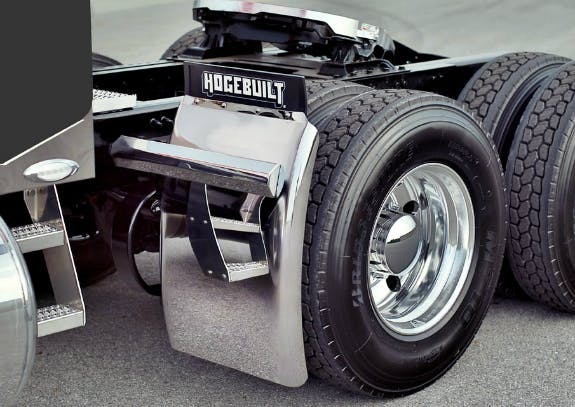 "Hogebuilt has been able to brand ourselves as handcrafting the best fenders and brackets in the industry, ensuring our dealers and drivers are happy with their purchases," said President Kyle Denu. "Our dealers and drivers know us on a first name basis, from the folks that pack the product, to the president of the company. We will continue to provide them with a product that exceeds their expectations."
In 1944, Ernie Hoge found a niche in the trailer industry in Lynwood, California. He began hand rolling horse, motorcycle and boat trailer fenders to create a smooth, wrinkle-free finish.
Sourcing steel for Hogebuilt fenders allowed Hoge to meet George Lombino, the vice president of a steel company in Los Angeles and former truck driver. They worked together for almost 30 years until 1972 when Ernie retired and sold the company to George. To ensure the craftsmanship and quality of Hogebuilt continued, Ernie worked with George's son, George Jr., for a year teaching him the techniques he had developed.
The following year George Jr. attended a truck show in Anaheim, California, and that sparked the idea to build show-quality stainless steel fenders for big rigs.  In 1973, Hogebuilt introduced 24-inch fenders, and then 27, 30 and 34-inch quarter fenders, as well as full and half-tandem fenders.
After 30 years, George Sr. decided to retire and George Jr. didn't want to continue without him. So, in 2004 Hogebuilt was sold to the Marmon Group and now operates under Marmon Highway Technologies. A few years later, the company relocated from Southern California to Springfield, Tennessee, where it operates today.
Hogebuilt now offers a complete line of quarter, single, tandem and half-tandem fenders manufactured of premium 304 stainless steel with a mirror finish. Hogebuilt has added a mid-grade line of fenders produced in a 430-stainless steel with a mirror shine finish. It's custom brackets integrate the fenders with a suspension system for sustained reliability.
"Over the past 75 years, Hogebuilt has never forgotten its focus of producing pristine products that customers have come to expect," said Helbert Flores, vice president of operations. "We have listened to our customers and dealers to introduce a mid-grade line that provides the same great product at a lower price point."
Hogebuilt products are available at all OEM truck dealers and qualified independent truck shops.