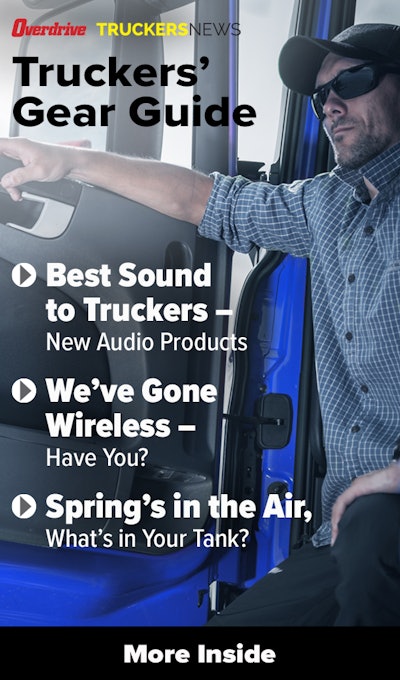 Highway life — the day in, day out driving by the over-the-road trucker — isn't easy. Anyone paying the bills and supporting the family by driving a truck faces demands that mostly go unnoticed.
Because of that, having the tools to get the job done is one thing. Having the gear that professional drivers count on to keep them safe, connected and comfortable while doing their jobs is something else entirely.
The Truckers Gear Guide from the RoadPro Family of Brands, Overdrive and Truckers News presents those products. It also contains tips and product information to help drivers not just do their jobs, but stay healthy on the road as well.
The current issue of the Truckers Gear Guide includes a feature that will be music to the ears of many truck drivers. An extensive article looks at the latest audio products that can keep drivers connected while on the road and also deliver high-quality sound to make the drive and the downtime a bit more enjoyable.
Also included are profiles of the latest Bluetooth headsets from BlueParrott, Skullcandy, and LG for driver communications and entertainment.
But the Gear Guide is not just about how to hear while on the road, but also what to hear. Included are details about two of SiriusXM's best in-cab radios for receiving the thousands of hours of programming delivered by the satellite radio producer. The Onyx EZR and Onyx Plus are easily mounted to your truck's dash and give you access to music, talk, news, and live sports as you drive.
Helping you make that drive efficiently and safely are several GPS units that truly function as in-cab assistants. Profiled in the Gear Guide are units by Rand McNally, TomTom, and Garmin.
The Gear Guide also delivers a couple of bright ideas: two of the high-performance flashlights from the new line from LUMAGEAR.
And, while most of the products featured in the current issue of the Gear Guide are for the man or woman behind the wheel, there's also information about a product that's good for the truck. Howes Diesel Defender is a multipurpose additive that cleans your truck's engine, adds lubricity, removes water from your fuel and improves mileage.