Summer has arrived and most of America and many of its workers can downshift into a slower, more relaxed pace and focus on going to the ballpark and the beach, or working in the garden and on their tans.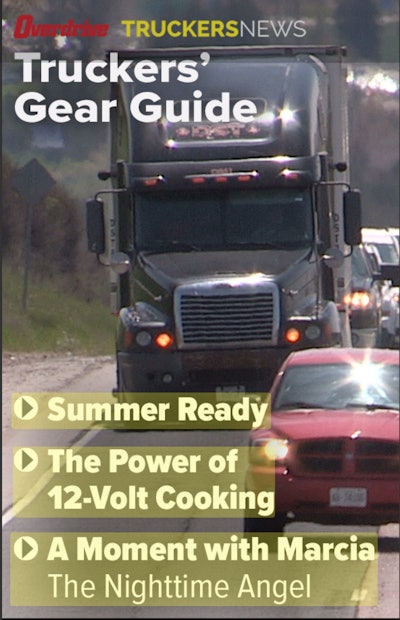 Not so for the trucking industry. These remain busy days and truckers continue needing the tools of the trade to stay safe, stay moving and stay profitable.
The latest edition of the Truckers Gear Guide is loaded with items designed to do that, and also keep drivers comfortable and connected in the process.
Today more than ever, with the clock of the everpresent electronic logging device ticking, truckers need all the help they can get when it comes to planning their trips. It's one thing to know where you're going, but another thing entirely to know the best, safest and most hassle-free route to get there.
This edition of the Gear Guide includes information about four navigation devices to make that possible:
TomTom Trucker 620

Garmin dezel 780 and 785

Rand McNally Overdryve 8 Pro
All are created with the professional driver in mind. Each provides robust trip-planning features, alerts to traffic and weather issues, and hands-free capabilities to make their use safe and easy.
This is also the time of year when there are extra demands on your truck. The Guide includes products like Howe's Diesel Defender and Big Chill to keep trucks on the road and out of the service department. 
The Guide also introduces you to Marcia Campbell, the woman who provides many drivers with all-night talk and tunes on the venerable WSM radio station.
Finally, few things are more important to the professional driver and easy, seamless and reliable communications. Be it with a shipper, a receiver, dispatch or the family back home, staying in touch means staying focused and getting answers should questions arise.
This edition of the guide profiles several headsets that make hands-free connectivity a snap.
Aside from tips on the tools drivers need, the Gear Guide includes tips on driver health, cooking, safety and how to better enjoy your time on the road.