The headlines appear daily. They are on familiar themes and go a bit like:
Big truck hits low bridge

Trucker takes wrong turn, ends up in school parking lot

Drivers finding it harder to locate a place to park
Skillful and trained as professional truck drivers are, and as close as they pay attention, things can still go wrong.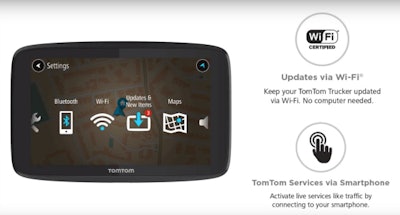 The TomTom Trucker 620 GPS is meant to minimize the chances of a driver winding up as a headline. Loaded with features truckers need, the TomTom Trucker 620 is a GPS built for the needs and demands of the driver who must have reliable information to make safe choices on the road.
With a 6-inch screen and built-in WiFi and Bluetooth connectivity, the Trucker 620 delivers its suite of services via voice control, meaning you keep your hands on the wheel but still get your smartphone's messages and make calls.
Here's how the Trucker 620 delivers:
Access Siri or Google Now using the device's built-in microphone.

Customized routes for your truck's specific dimensions, weight, cargo, and maximum speed.

Locations for parking, truck stops, travel centers, fuel stations, restaurants and service centers.

Alerts for congestion ahead. 

Smartphone messages read to you from your SMS, and iMessage.

Lifetime truck maps delivered at no extra cost via WiFi. And, lifetime TomTom Traffic, which tells you how to avoid traffic, both on highways and secondary roads.
The Trucker 620's speaker and microphone deliver quality, hands-free calls. Just connect your phone via Bluetooth, and you'll see who's calling on your Trucker 620's screen.
The TomTom Truck 620 attaches to the dash of your truck with an easy to use magnetic mounting device.
Available online and in travel centers.