You left the house before the sun rose and are about to stop for the night after making it some 600 miles from where you started. The temperature has dropped unexpectedly about 30 degrees since you left home, and you suddenly remember that your warmer coat is still hanging in the closet at home. 
Packing everything you need in your truck's cab can be a struggle as you certainly cannot fit everything from home that you would like to take with you. That's why a little planning can go a long way to ensure you always have what you need.
We recently reached out to a few pro drivers to share some of their advice.
"I always pack for the unexpected," said Thomas Miller, who has been driving for over 18 years and a captain for the American Road Team."Making sure I have cooler clothes in the winter and a winter coat even in the summer." He pointed out that if you drive long-distances, weather can change, and you need to be prepared no matter what time of year. 
Gary Johnson, an owner-operator specializing in heavy haul freight, lists what he needs to take on the truck and then marks everything off as he loads up. "I always make sure I have an overabundance of socks," he said with a laugh. "There is nothing worse than wet socks!"
You may also find that laundry machines at the local truck stop you chose are limited, or there may not be a laundry at all in some cases. "Make sure you have plenty of clothes," said Bill Weaver. "And that you are prepared for the season you are driving in."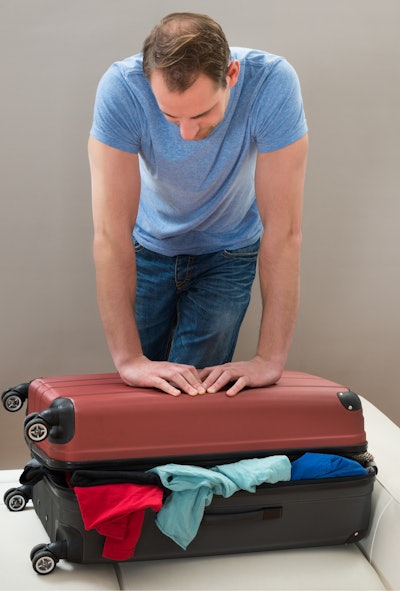 Pack enough clothes and the right clothes for the entire run, and comfortable and not restrictive clothes since you are in a seated position for long periods. He also said that having the right amount of groceries and staples on the road in case food options are limited is necessary. 
"The number one thing I would recommend is that you remember to pack any specific medication you take and that you have enough for not only the time you think you will be out but provisions in case you end up being out longer than expected," said Robert Greene, who has been driving a truck since 1986. "Make sure you also have some over-the-counter medications if you get sick, like Ibuprofen, cold medicine, or something for stomach upset." 
Greene also stressed that your truck is your home away from home, so take what you need to keep your truck clean and organized. When you stop for the day, you know where the things you need are and have a safe and clean space to rest.   
Others advised to buy a good shower bag or shower caddy and fill it with the toiletries you use daily. Make sure you check that you have plenty for your time away, so you aren't stuck without your favorite shampoo or soap.
Bob and Linda Caffee drive team and are often out for long periods. They may leave when it is very hot but come home to snow on the ground, so they are veterans of planning well.
"Once we left home without my computer charging cord, and it was a mess trying to find one," said Linda. "I have learned to keep one set of charging cords on the truck and one set at home." She also pointed to a time when her bank card expired, but luckily Bob's expired at a different time. They recommend always checking the expiration dates on your card before you head out to make sure it will not expire before you get home. It is also a good idea to have another way to pay for things while on the road – like another credit card or cash should your bank card not work in a location or if your bank flags your card for fraudulent activity because you are traveling cross country. 
The Caffees also travel with their German Shepard, Texas, and recommend you check to make sure you have your pet's essentials as well. "We once forgot Texas's leash, and that required a mad hunt to find one."  
Relying on the food available when you stop for the night may not be the best for your health or wallet. Make sure you have plenty of options on your truck to make a meal or a healthy snack. If you don't currently cook your own meals, you may want to consider doing so as this too will save you money and control calories. Check out some of RoadPro's 12-volt appliances that can provide a hot meal and take up very little space in your truck.
You will also want to have plenty of water to keep hydrated. Kenyette Godhigh-Bell, an owner-operator, advised she always travels with a shaker bottle and cup to make her favorite health drink. She utilizes this to keep her energy up and ensure she is getting the proper nutrition while on the road. She also always make sure she has her vitamins and supplements with her to keep her healthy. 
It is also a good idea to build your own emergency kit. With the crazy weather that we have had in the last few years, it is hard to predict just what you may encounter. Most drivers advised that you should have a good first aid kit, non-perishable foods, extra water, a small tool kit, flashlight, extra batteries, pocket knife, and a blanket. Invest in a waterproof or tactical backpack or bag and store all these items safely for easy access.
No matter how long you have been driving, whether you are new to the industry or a seasoned veteran, you WILL at one time or another forget to pack something you need. Fortunately, you will be able to find the essentials in most travel and truck stops, but remember that some of those items may not always be at the best price. With a little bit of planning before you head out and creating your checklist, you can always make sure you have what you need.
Here is a list to get you started:
Pants/shorts
Shirts/long and short sleeve
Socks
Underwear
Sleepwear
Jacket
Boots and sneakers
Shower shoes
Laundry bag
Sunglasses
Gloves
Shower bag
Shower shoes
Razors
Deodorant
Soap/body wash
Shampoo
Medications (both prescribed and over the counter)
Toothbrush/toothpaste
Paper towels
Disinfectant wipes
Trash bags
Emergency kit
Plates, bowls, cutlery
Non-perishable food
Water
Cash
Credit card and/or bank card
Health insurance card
Charging cables for computer, phone and other devices