The Poly (Plantronics & Polycom) Voyager 5200 Bluetooth earpiece has numerous features that ought to appeal to any truck driver.
One of the most impressive of these features is the WindSmart noise-canceling technology on the Voyager 5200's microphones. It effectively eliminates background noise in your cab and on the highway.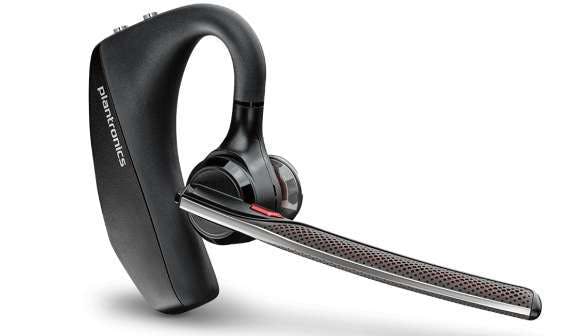 Plantronics Voyager 5200
The Voyager 5200 also automatically senses if it's being worn and it directs call audio to where you expect to hear it. The lightweight mono earpiece allows you to wear it for your entire driving day in comfort.
A red two-in-one button on the Voyager 5200 activates Siri, Google Now, or Cortana. It'll also whisper alerts to update you on talk time, and announce the names of incoming callers so you can simply say "Answer" or "Ignore" to calls without lifting a finger.
During calls, you can simply press the button to switch mute on and off. The Voyager 5200 will also tell you immediately if you're speaking while muted, and timed alerts continually remind you when mute is still on.
The Plantronics Hub mobile app allows you to locate your lost headset, change languages, wirelessly update firmware, or personalize settings and alerts. The Plantronics Hub desktop software lets you view the headset's battery meter, change languages, update firmware, enable softphone call control, or personalize settings and alerts.
The Voyager 5200 has seven hours of continuous talk time and nine days of standby.
Available in most travel centers and online.