In August of 2021, DAS Companies, Inc., the parent company of RoadPro Family of Brands, entered into a licensing agreement to sell Cummins branded DAS products. What does this mean for you, the driver?
Cummins and DAS are joining forces and building on the Cummins promise of innovation and dependability and leveraging DAS' extensive portfolio of more than 12,000 products serving the on-the-go lifestyle.
Cummins officially licensed merchandise will include apparel, power equipment, knives, CB accessories, flashlights, gloves, safety gear, tools, and cellular and travel accessories.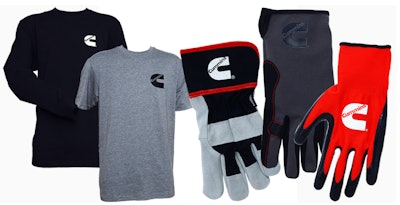 The apparel line will feature an extensive offering of hats, beanies, sunglasses, hoodies, sweatshirts, and long and short-sleeved t-shirts, all Cummins branded and made of high-quality materials. There will also be a selection of durable gloves that include full leather, split leather, dipped, and mechanic gloves. In addition, there will be a full line of safety apparel, including work vests and safety glasses. In addition, there will be a full line of safety apparel, including work vests and safety glasses.
The Cummins offering will also include heavy-duty knives made of high-carbon D2 steel with various blade options and textured handles for the perfect grip. If you need more than just a good knife, a multi-tool with multiple knife blades and a bottle opener, wire cutter, screwdrivers, and a 10-piece bit set are all neatly contained in a formed nylon sheath with embroidered logo and belt loop.
Cellular accessories will include wall and car chargers, charge and sync cables, power banks, charging pads, and more. There will also be a line of cup, dash, and tablet mounts to keep your electronic devices safe and secure.
Cummins branded power inverters will include a 120W direct plug modified sine wave inverter and a 120W cup or strip inverter that can be plugged into a 12 Volt socket. For more power, a line of larger hard wired inverters with 4 AC outlets, port covers, USB and USBC ports, LCD screen, and remote control will be available from 3000W to 5000W.
While these are just a few of the products, you will see this Fall, more products for your on-the-go lifestyle are in development.
Cummins branded merchandise will be available in many retail locations in the near future. 
See more trucker gear and driving tips on the latest Overdrive and Truckers News Truckers Gear Guide.