ToughTested's Mammoth Mount lives up to its name, with a large claw grip that can hold securely any sized smartphone.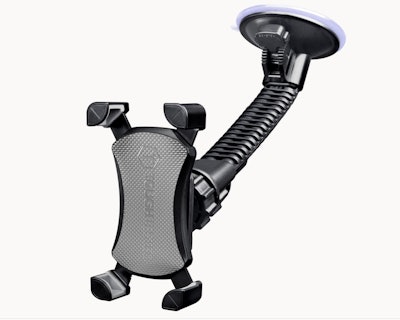 The Mammoth Mount has an extra large suction cup windshield mount with a ratcheting pressure lock for secure adhesion to windshields or other smooth surfaces. This will keep your smartphone positioned for easy, hands-free use. 
The double ribbed heavy-duty gooseneck has one of the strongest four-way lock-in phone grips in today's market. It also features a quick-release button for easy phone removal.
The Mammoth Mount has been tested to fit the following phones with cases: iPhone XS Max with Otter box defender Samsung Galaxy S9+ with Otter Box Defender Samsung Galaxy 10+ with Otter Box Defender, and Samsung Note 9 with Pelican Voyager case.
Strong construction and materials prevent vibration even over rough roads, and the Mammoth Mount comes with a 5-year warranty.
Available at travel centers and online for $29.99.