Garmin recently rolled out a new "reimagined" line of navigators designed to simply life on the road. 
The dēzl OTR610, OTR710, OTR810, and OTR1010 navigator series features custom routing and road warnings based on the size and weight of your rig, strategic suggestions for fueling and breaks, and arrival planning. BirdsEye Satellite Imagery provides high-resolution aerial views of loading docks, truck entrances, and security gates.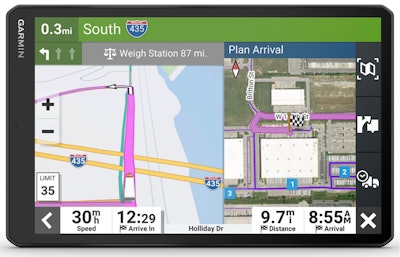 The new navigators feature larger, high-resolution touchscreens including 6, 7, 8 or10-inch touch screen displays. The 8-inch and 10-inch displays offer a new split map view showing previews of a remaining route and impending weather conditions with the option to also mount the devices in landscape or portrait mode to see even more details of the route ahead.
The new dēzl OTR series brings several navigation features to improve life on the road for professional truck drivers. These include:
Trucks and trailer services provides a convenient directory to filter truck stops by preferred brand or amenity
Truck plaza loyalty points and rewards from popular travel plazas across can be viewed on the devices by pairing a dēzl OTR navigator with the dēzl smart device app     
PrePass notifications of U.S. weigh station and bypass decisions to help save time and improve efficiency
Real-time services can be used to obtain live traffic, weather and smart notifications when paired with the dēzl app on your compatible smartphone
Includes map updates of North America with coverage of the U.S., Mexico, Canada, U.S. Virgin Islands, Cayman Islands and Bahamas
Compatible with BC 50 backup cameras, dēzl trucking headset, and the dēzl edition smartwatch 
Available at travel centers and online, the dēzl OTR610/710/810/1010 trucking series have suggested retail prices ranging from $349.99 to $899.99.