The list of issues confounding truckers is long. For most, it includes (but is certainly not limited to) a lack of safe parking, waiting hours to load or unload, traffic congestion, bad weather, the behavior of four-wheelers, unreasonable dispatch demands, and, of course, the problem of trying to eat properly while on the road.
Most of those issues are out of the control of even the most professional of drivers. However, having nutritious meals and snacks isn't.  
The Koolatron P25 Fun Kooler allows you to bring preprepared meals from home or stock up on groceries when time allows.
This 26-quart cooler plugs into your truck's 12-volt outlet to keep your drinks, food, and snacks cold. It cools to 36°F below the surrounding temperature. And, it measures just 11.5" x 15" so it takes up little space in your cab.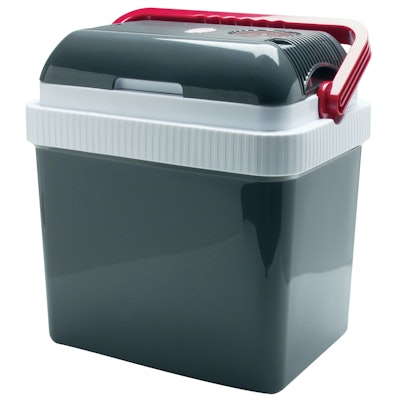 The lightweight and compact Koolatron P25 features:
Efficient thermoelectric cooling technology
Manual temperature control
Stain-resistant interior
Injection-molded hard exterior that protects contents
Flip-up locking handle
Cord storage compartment
Removable lid for easy cleaning
Space for 32 12-ounce cans
When plugged in, the Koolatrom P25 requires 48 watts and 4.0 amps.
Available at travel centers and online for $111.99.