Although filled with joy and goodwill, Christmas can get more complicated if you're a trucker or you have one in the family. That's especially true if a driver is on the road or has limited home time when the holiday arrives.
This is a season of heightened expectations. There may be holiday parties to attend or host. Family dinners to plan and cook for. Decorations to be hung, and children's and grandchildren's expectations of Santa to be managed delicately.
And, of course, there is the question of gift-giving, which is made more demanding in these uncertain economic times. But fortunately, you certainly can give the trucker on your gift list something that improves the comfort and quality of their life on the road, and not bust your budget in the process.
Here are a few gift suggestions most professional drivers would appreciate this Christmas.
Heated Travel Mug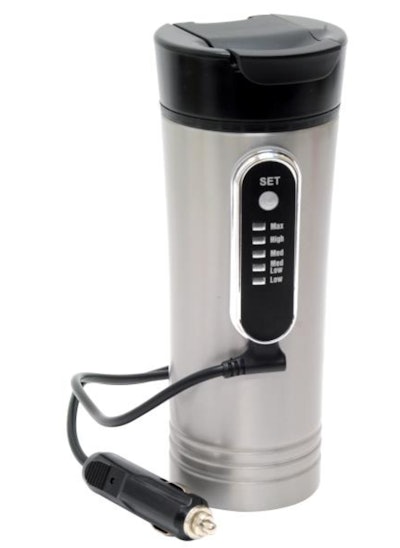 Having a decent cup of coffee while on the road is something as close to essential as anything in a professional driver's life. But only if it's hot. Few things are as disappointing as taking a swig of coffee and having it cold, especially this time of year. The 15-ounce heated travel mug from RoadPro guarantees that won't happen. The 5-foot-long cord plugs into your 12-volt port and can keep your coffee – or any other hot beverage of your choice – at one of five settings from low to the max temperature. With a non-slip bottom, and shaped to fit standard cup holders, the heated travel mug will keep your coffee hot and handy as you drive. It is available at most truck stops and online for $29.99.
Tidyfi Front Seat Organizer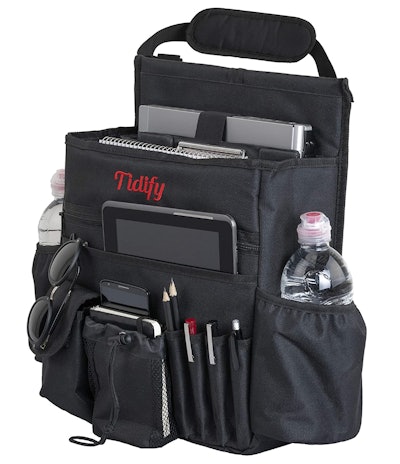 "Everybody's gotta have a little place for their stuff. That's all life is about. Trying to find a place for your stuff," said the late, great comedian George Carlin in one of his most memorable bits. That's especially true for truckers while on the road, and fortunately, the Tidify front seat organizer is a good place for your stuff. Made of heavy-duty polyester fabric, the organizer has two deep cushioned compartments, two pockets for bottles, two zipper and open pockets, spots for pens, and a separate, easily accessed pocket for your smartphone or a power bank. It hangs over the passenger's seat headrest and is secured in place by side straps. The Tidify organizer is available online for $36.95.
12-Volt Two Outlet Adapter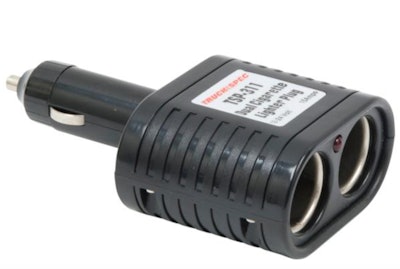 Life on the road has become more enjoyable by the array of 12-volt appliances available to truckers. However, using more than one at a time can be a problem if your truck has just one 12-volt port. RoadPro's two-outlet cigarette lighter adapter doubles your options so you can use your 12-volt stove and a 12-volt coffee pot at the same time. Its fused plug protects your truck's electrical system, and it draws 15 amps. The 12-volt two-outlet adapter is available at truck stops and online for just $9.99.
Rand McNally Motor Carriers Road Atlas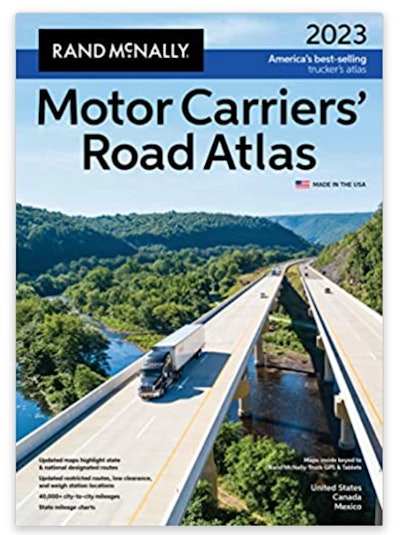 Around for almost 40 years, the Motor Carriers' Road Atlas has been – or at least ought to be – in the cab of every over-the-road trucker. It contains a wealth of information starting with up-to-date truck-accessible highways and restricted routes. But, more than maps, the atlas also has state-by-state trucking regulations, up-to-date state fuel tax charts, weight and size limits, registration information, hazmat regulations, phone numbers, and websites for state police and operating authorities. It makes sense to have a current GPS truck navigation device onboard. But the current Motor Carriers' Road Atlas is also indispensable. The road atlas is available at most truck stops and online for $24.99.
12-Volt Dual Fan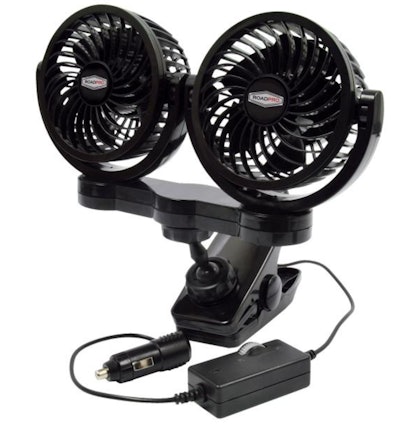 Staying comfortable while driving is key to staying alert and aware. Often that means staying cool. The 12-volt dual fan from RoadPro can help you stay cool. With variable speeds, the fully adjustable fan will give you the desired airflow. With a 7.5-foot-long cord and heavy-duty mounting clip, the fan can be placed where you most need it. It features a 12-volt fused plug to protect your truck's electrical system. The 12-volt fan is available at most truck stops and online for $29.75.
Duke Cannon Cold shower Field Towels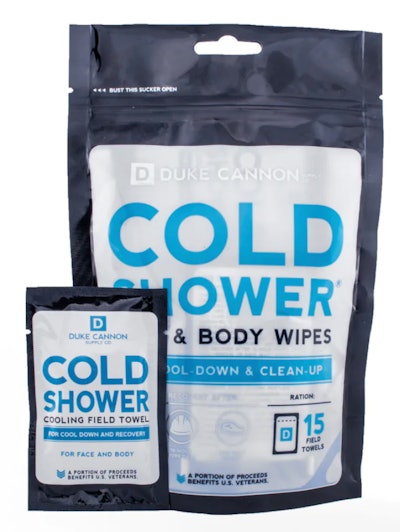 Been a hard day? A warm one? Had to tarp a load or unload some freight? Now that the day is done, you need to clean up, but you may be parked where there are no showers. No worries. Duke Cannon's Cold Shower Field Towels can be a suitable solution. Not only do they clean your skin, but because they're made with menthol, they also cool you as well. Like other Duke Cannon products, the Cold Shower Field Towels are developed with a military advisory board, so they are up for the most demanding chores. A pack of 15 in a resealable pouch is available online for $12 or at a travel center near you.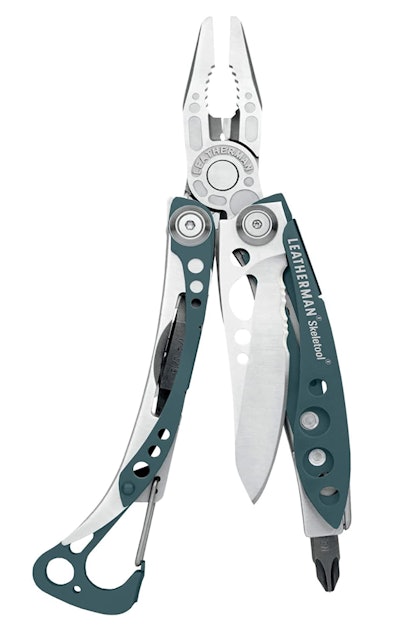 Leatherman Skeletool
Sometimes you need more than your trusty jackknife, but far less than your truck's toolbox. That's when you need a multitool like the Skeletool from Leatherman. It has seven tools including a knife, pliers, bit driver, and wire cutters. Unlike many other multitools, the Skeletool is lightweight and easy to use with one hand. It also includes a removable pocket clip so it's always at hand. Like all Leatherman tools, it's made in Portland, Oregon, and comes with a 25-year warranty. The Skeletool is available online for $74.95.
Officemate Clipboard Storage Case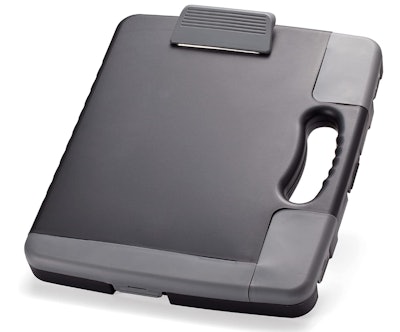 While COVID hastened the process toward electronic documents replacing paper BOLs, most drivers still have paperwork to keep organized. The Officemate Clipboard Storage Case can do that for you. With three external compartments, the case keeps supplies within easy reach, and a powerful top clip will hold a pad or your paperwork in place. It has plenty of space for other documents and supplies. At 14.5" x 11.75", it is large enough to accommodate plenty of your documents and provides a sturdy surface for writing. The storage case is available online for $16.47.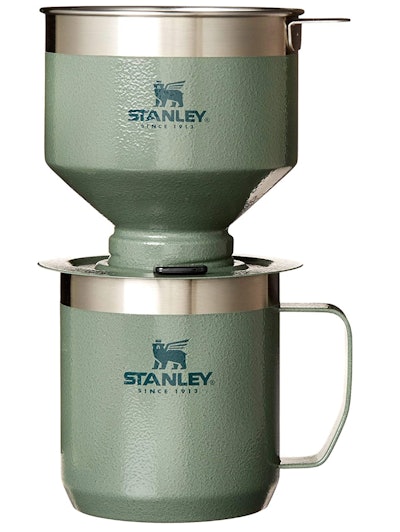 Staley Camp Pour Over Coffee Maker
There are times when any cup of coffee will do. Then there are times when you want a hot steamy mug of quality brew to relax with when you're taking a break. The Stanley Camp Pour Over Coffee Maker allows you that little luxury. Just fill the top with your favorite ground coffee and pour in the hot water. The coffee brews and drips through the stainless-steel filter into the mug below. Made by the same folks famous for their thermoses, the coffee maker is rugged enough for life on the road. The coffee maker is available online for $29.96.
BlackCayon Outfitters General Purpose Gloves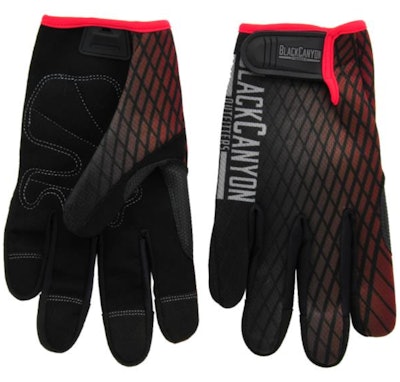 Let's face it, your hands are important to almost everything you do in your daily life as a professional driver. Therefore, it only makes sense to protect them. The BlackCanyon Outfitters gloves will do that for you while not sacrificing the dexterity you require. They are made of synthetic leather and have four-way stretch backs and padded palms. With hook and eye closures, they adjust to your hands, so you have a comfortable t. The Black Canyon Outfitters gloves are available at a travel center near you or online for $15.70.
Duluth Trading Tradesman Neck Lamp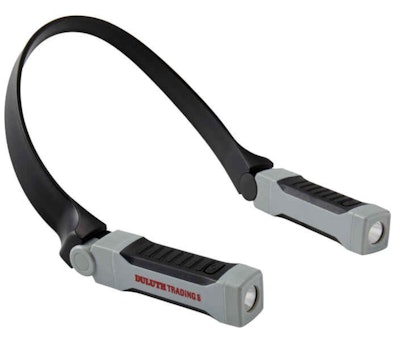 Many of the jobs on your truck require both hands. That can be a concern at night. Duluth Trading's Tradesman Neck Light solves that problem and does it easily. The light rests safely and comfortably on each side of your neck, and its two lights provide 100 lumens of illumination. It is shock and water-resistant so it's perfect for working in less-than-ideal conditions. Powered by two AA batteries, the neck light provides up to three hours of illumination on high or six hours on low. The neck light is available online for $29.95.
So, as Christmas looms and your thoughts turn to nd the ideal gift for the trucker on your list, keep these few tips in mind:
Cost isn't everything. Trite as it sounds, it truly is the thought that counts, so be thoughtful about the gift you give that trucker.
Pay attention. Start listening even closer to what they have to say about their life on the road, what makes them comfortable, and what makes them happy while away from home.
If all else fails, give them a gift card to the truck stop or travel center of their liking. Don't be afraid to ask. Just come out and say, "Give me a couple of gift suggestions."
And, most importantly of all, try to spend quality time with your loved ones this holiday season. If your trucker is on the road, call or Facetime with them to say, "Merry Christmas." And, if they're home, don't get so busy celebrating that you don't have quality time together. 
For more great ideas for the holidays, check out the Overdrive and Truckers News Truckers' Gear Guide from the RoadPro Family of Brands.