Much of the U.S. has seen some serious winter weather in the last several weeks. From the Pacific Northwest to the East Coast, heavy snow and high winds -- sometimes setting new records -- have meant truck travel has been slowed and at times completely stalled. Many were the sights of big rigs trapped by mounds of snow on highways, or for the lucky ones, in truck stop parking lots.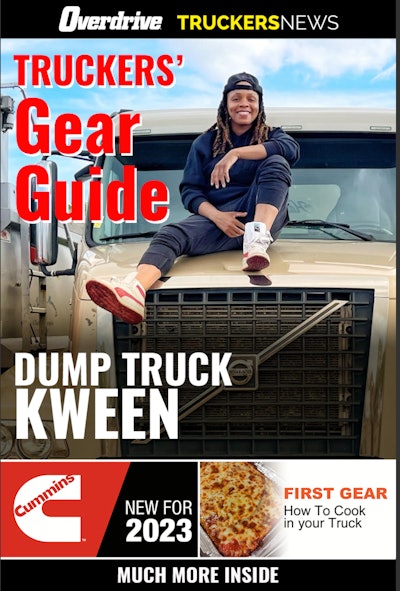 The latest edition of the Overdrive and Truckers News Truckers Gear Guide from the RoadPro Family of Brands is loaded with ideas on how truckers can avoid many of the problems associated with life on the road when winter is at its worst. That content includes:
Tips for winter driving by owner-operator Idealla Hansen, who has been in the trucking business for 53 years and has been a driver for 40
Howes offers "8 Prep Steps For Winter's Wicked Wrath"
The latest gear suggestions to make winter life on the road safer and more comfortable
A video on tips from second generation owner operator Kim Loescher on what to keep in your truck this time of year
But, the Truckers' Gear Guide offers more than that. The newest edition includes:
Serita Lockley explaining how she started not just a successful dump trucking business, but also a consulting business and mentorship program to help others in the industry
Jenn Kohl, who team drivers with her husband, talks about getting started preparing meals on your truck and provides a lasagna recipe suitable for a 12-volt cooking device
A recipe for a chicken, broccoli, rice and cheese casserole that can be prepared in RoadPro's 12-volt saucepan
Details of the latest Cummins-branded products including power inverters, knives, cellular cables, chargers, mounts, power banks, drinkware, new apparel designs, safety apparel, and coolers
So, once again, the Overdrive and Truckers News Truckers' Gear Guide from the RoadPro Family of Brands contains content that not only entertains and enlightens you but also delivers useful tips to keep you safe and comfortable while on the road this winter.