You know Garmin for its line of dēzl OTR navigation devices created just for professional truckers.
Now the company has created two new wireless headsets that bear the dēzl name, the dēzl 100 and the dēzl 200.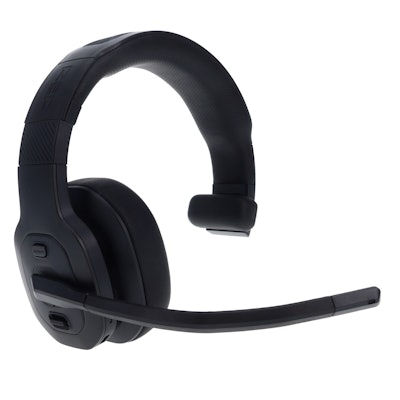 The two feature-packed models are completely similar with one exception: the dēzl 100 has one earcup, while the dēzl 200 gives you the option of adding a second earcup for full stereo sound for when you are off-duty.
The features of the two dēzl headsets include:
high-quality, noise-canceling audio capabilities in each earpiece
adjustable boom microphone
powerful 50 hours of battery life
2.5-hour full recharge and 15-minute quick charge for 8 hours of talk time
comfortable memory foam earcups for extended wear 
hands-free calling when paired with your smartphone and the dēzl app
a handy storage hook on which to hang your headset when not in use
Bluetooth range of 300 fee
Both the dēzl 100 and dēzl 200 also use Garmin's app to pair with the dēzl OTR navigators. This allows you to get directions through the headset and allows you to control the navigator hands-free.
Both headsets are available online; the dēzl 100 sells for $299.99 and the dēzl 200 has a $399.99 price tag. Both are also available at travel centers, truck stops and big box stores.
For more on the latest gear and trucking tips, check out the latest issue of the Overdrive and Truckers News Truckers Gear Guide from the RoadPro Family of Brands.