Consider the creature comforts in the cab of today's over-the-road truck driver:
Custom seat
Mini fridge
12-volt power inverter
Microwave
Flat-screen TV
Now, add something unseen to that list that would be wildly missed if it were not there. That's Bluetooth connectivity, which makes so many truckers' gear items function flawlessly and enhances almost every aspect of life on the road.
Bluetooth uses short-range radio waves to connect devices and share data. It's been used in consumer applications since 1999. Today, it's especially important to the trucking industry as it allows wireless and hands-free connections, so drivers answer and make calls from their smartphones while keeping their hands on the wheel.
Wireless, Bluetooth-enabled headsets are a staple of the professional trucking community, and there are many to choose from, including several that do double-duty for when you're driving and when you're enjoying your favorite tunes in your sleeper berth when not driving.
BlueParrott B650-XT and the S650- XT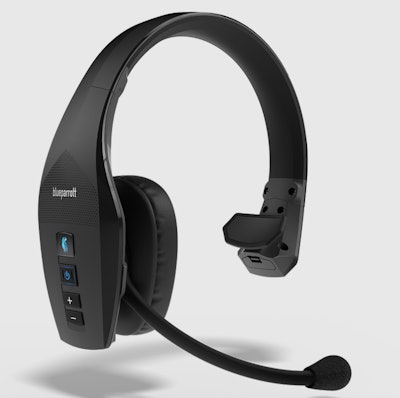 BlueParrott has numerous wireless headsets aimed specifically at professional drivers including the B650-XT and the S650-XT. Both offer what the company calls "Active Noise Cancellation" to ensure the folks you talk to hear you clearly without any background noise. The two each have 36 hours of talk time and a range of 300 feet. Both are rated IP54 for superior protection against dust and water. The big difference between the two models: the S650-XT has a second ear pad you can attach for stereo sound when you're streaming music or a movie in your downtime. The S650-XT and B650-XT are available on BlueParrott's website or in a travel center near you.
RoadKing 4000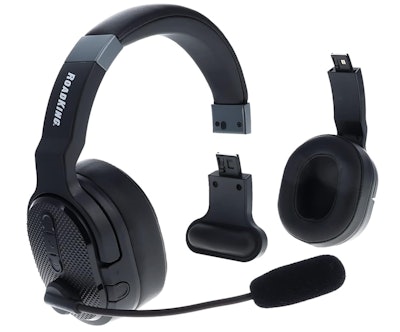 RoadKing, a member of the RoadPro Family of Brands, has a lineup of four Bluetooth-enabled headsets, all well suited for the professional driver. The top-of-the-line is the RKING4000, which delivers 28 hours of talk time and has superior noise cancellation and ambient noise reduction. It is powered by Bluetooth 5.0 and has a range of 33 feet. The RKING4000 does double duty. You can wear it with the one connected ear pad while driving, and then add a second one for stereo listening when not on the road. Both earpads are ultra-soft and are made with memory foam for superior comfort. The RKING4000 is available at most truck stops and travel centers, or on the Roadking Amazon storefront.
Rand McNally ClearDryve 220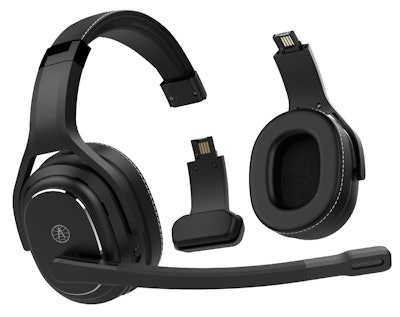 Rand McNally (yes, the company that makes the essential trucker's atlas and numerous GPS devices for your truck) also has a lineup of wireless headsets. All the ClearDryve headsets rely on Bluetooth 5.0 to pair easily with iOS or Android smartphones. The ClearDryve 220 is top-of-the-line and can be used with one earpad while driving and a second one for streaming audio when not. It offers 20 hours of talk time and 200 hours on standby. It's available at most truck stops and travel centers, or on the Rand McNally Store.
Garmin dēzl Headset 200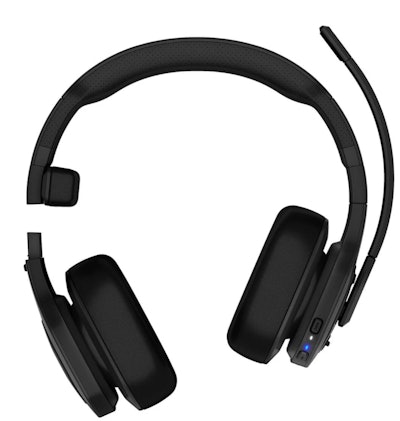 Garmin's entry in the two-in-one trucker Bluetooth headset lineup is the dēzl Headset 200, which allows you to wear one earpad while driving and add a second for non-driving listening. The dēzl 200 offers up to 50 hours of talk time, and active noise cancellation. It also pairs with the Garmin dēzl Navigator GPS. The Garmin dēzl Headset is available at most truck stops and travel centers, or online.
Shokz OpenComm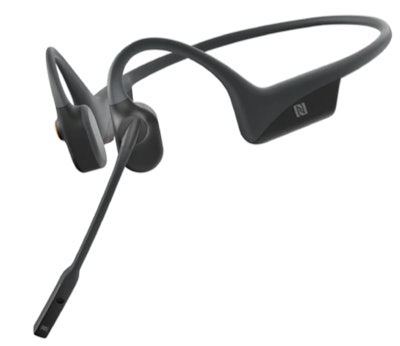 Shokz's (formerly AfterShokz) OpenComm Bluetooth stereo headset is the rst of their headsets designed specically for communication. Like other Shokz products, OpenComm uses bone conduction to deliver high-quality sound. It features an adjustable DSP noise-canceling boom microphone that ensures your calls are clear and noise-free. OpenComm features 16 hours of talk time. This lightweight wireless headset has a multifunction button that lets you control play, pause, answer calls, and activate a voice assistant with a couple of taps. Available online or in a travel center near you.
Remember this ...
When you're ready to buy your first Bluetooth headset or upgrade from your existing one, remember to:
Find one that suits your need for all-day or long-day comfort. Be sure it has enough battery life for your 14 hours of on-duty time.
Consider one that allows you to make and answer calls with voice controls, so you keep your hands on the wheel.
Be sure it's compatible with your existing devices, smartphone, GPS, and tablet.
Check out what others say. Ask other truckers what they prefer, read the review on sites like Amazon, and check out the choices of tech rating sites.
And of course, one that fits your budget and still meets your needs.
RoadKing Wireless CB Radio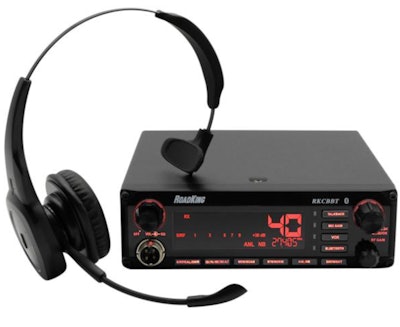 Headsets aren't the only communications devices that are wireless, Bluetooth-enabled, and essential to truckers. RoadKing reshaped the CB radio market when it introduced its hands-free CB that pairs with the RKING940 wireless headset. This device allows you to use your CB without having to reach for the mic, while also allowing you to answer or make calls from your smartphone with voice commands. The 940 also features a 7-color display, NOAA weather alerts, PA function, and talkback. Available at travel centers and truck stops and online.
Logitech K780 Multi-Device Wireless Keyboard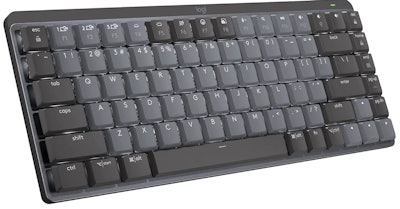 More of your trucking life has gone digital, and even more is headed that way. That means being able to enter information quickly and easily is more important than ever before. This means having a good keyboard. The Logitech K780 Bluetooth-enabled keyboard is such a device. What sets this apart from other wireless keyboards is that it can be paired with three devices at once, so you can easily switch between your smartphone, laptop and tablet. It is a full-sized keyboard with a number pad for ease of entering numerical data. Available online at travel centers and truck stops and online.
Jiobit Pet Tracker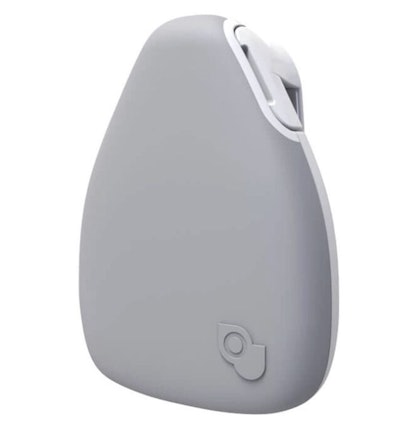 If you're like the growing number of over-the-road truckers who travel with a pet, then you know it's important to always keep track of your furry sidekick. This pet tracker from Jiobit will help keep an eye on your dog, especially if they happen to stray from your truck or your side. Small and lightweight, the Jiobit tracker uses Bluetooth to connect to your smartphone and delivers real-time location details. It attaches to your pet's collar and is small enough for use on a cat. Available online plus a monthly plan.
Ultimate Ears WONDERBOOM 3 Speaker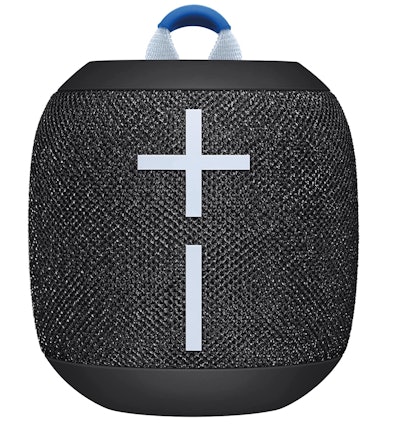 This delivers a lot of sound in a small package. The WONDERBOOM 3 is about four and a half inches square but delivers the kind of sound you expect from a portable Bluetooth-enabled speaker two or three times its size. Plus, it has a battery life of 14 hours, so it'll keep your sleeper berth filled with sound for most of the time you're not driving. The durable WONDERBOOM 3 is dust and waterproof so it's going to stay safe even if your driving takes you into difficult conditions. Use two of them for stereo sound. You can purchase the Ultimate Ears WONDERBOOM 3 Speaker online.
Connected Rubik's Cube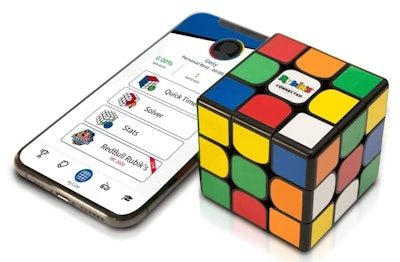 In the late 1970s and early '80s, the Rubik's Cube 3-D puzzle had everyone fascinated or frustrated. It was an obsession for many to get all the same color faces on each of the cube's six sides. Doing so was not easy for most folks. Now, the cube is back and this time it uses Bluetooth to connect to your smartphone so you can time your progress – or lack of it – and compete with others. This could be the ideal way to fill your time waiting to load or unload or when you are parked for the day. Available online.
Samsung Smart Watch
The Samsung Galaxy Watch5 does much more than tells time. This Bluetooth- enabled timepiece also monitors your sleep, tells you your blood pressure, tracks your heart rate, keeps track of your daily workouts, and functions as a GPS tracker. It syncs easily with your smartphone and helps you live up to your fitness and wellness goals while on the road. Available online.