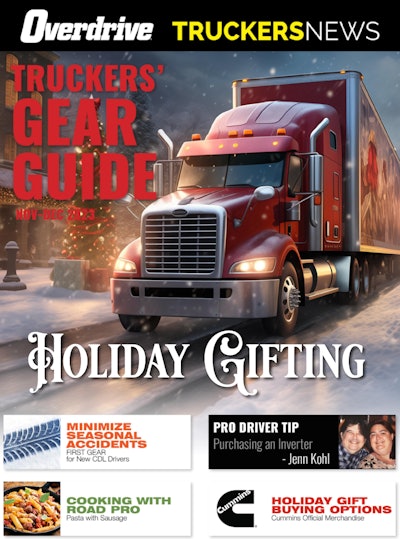 It is, as the favorite Christmas song goes, "the most wonderful time of year."
The holiday season is upon us, even for truckers who are on the road and away from home and family.
The newest issue of the Overdrive and Truckers News Truckers' Gear Guide from the RoadPro Family of Brands is filled with information and gift ideas to make holidays on the road or at home more enjoyable, and safer.
The stories included in the Gear Guide cover:
Serious insights on how to minimize accidents during the busy holiday season. Trucking always carries some inherent risk, but that increases this time of year, as the weather in many places becomes more demanding and many motorists are even more distracted.
Being on the road can be stressful for many drivers. That increases during the holidays for many drivers as expectations are heightened and family events may be missed. A story in the guide offers helpful tips on how to adjust to being away from home during the holidays.
No two ways about it, the holidays are also a time of gift-giving. These days, given the state of trucking and the economy, it can be difficult to give to everyone on your list and still have money left to meet daily needs. The Truckers' Gear Guide offers suggestions on gifts for truckers priced at no more than $25.
The good folks at Cummins also have a selection of truckers' gear that would make for ideal gifts. Cummins-branded items include cellular accessories, apparel, drinkware, gloves, and knives.
If you have someone on your holiday gift list who would benefit from having a power inverter, the Guide offers tips on how to buy one. Trucker Jenn Kohl offers insights from inside the cab.
For much of the country, the arrival of the holidays also means the arrival of cold weather and the trucking problems that come with it. Not the least of those problems is the gelling of diesel when temperatures drop. An article in the Guide includes how to prevent gelling, and what to do if your diesel gels.
And, the guide also provides answers to the important question of many truckers who ask, "What's for dinner?" Included are recipes for pasta primavera, a trucker's breakfast burrito, a turkey grilled cheese sandwich. And, truck driver Marcus Dodson also offers tips on cooking pasta and sausage in your truck's cab.
So, the Overdrive and Truckers News Truckers' Gear Guide from the RoadPro Family of Brands is an ideal holiday companion, one that is loaded with tips to make your trucking safer, and more comfortable.
And, Merry Christmas and happy holidays!