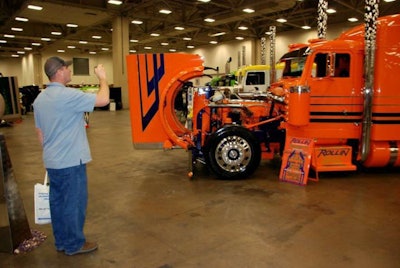 More than 50,000 of trucking's closest friends — a new record — gathered at the Great American Trucking Show (GATS) in Dallas late last week to see what's new in the industry and learn things to make them better drivers.
In addition, they heard some great music, met a few celebrities, toted home tons of pretty cool swag and, of course, got up close and personal with many of the best-looking trucks on this or any other continent.
Here's a quick recap if you couldn't make it.
Four national champions were crowned in the final judging of the yearlong competition in Overdrive's Pride & Polish custom truck competition. Four best of show of show winners were named and one truck received the Truckers Choice award. In addition, a trailer-load of trophies was handed out for the best trucks in a variety of categories.
This year's Pride & Polish national champions are:
Vinnie Diorio's "Trendsettin'", a 2013 Peterbilt 389 and matching Mac trailer won in the limited-mileage combo category
Bill Rethwisch won in the Working Combo category with "Blood, Sweat and Gass," a 2013 Peterbilt 389 and matching Polar tanker.
Austin Ashley's 2007 Peterbilt 379 "Double Take" won the limited-mileage bobtail category and the title of Trucker's Choice
Bob Brinker's pirate-themed 2000 Freightliner Classic, "The Legend of the Black Pearl," won the working bobtail category.
GATS 2014 Best of Show trophies went to:
Ray Rodriguez picked up honors in the limited-mileage combo category with his "Wicked", a 2015 Peterbilt 378 and matching Western stepdeck.
Dustin Pope won the working combo category with his 2003 Kenworth W900L and matching 2010 Utility reef
Mike Lemley's 2000 Peterbilt 379 won in the working bobtail category.
Jerry Kissinger won the limited-mileage bobtail category with his 1978 Mack Superliner.
Julie Matulle came to GATS from her home in Oshkosh, Wisc. as one of 10 finalists in the Mike O'Connell Memorial Trucking's Top Rookie contest, and left as the competition's winner and $10,000 richer. She drives for H.O. Wolding of Amherst, Wisc.
Class 8 Racing returns to American tracks
Four motorsports veterans have put their considerable heads together to revive big rig racing in the U.S. The Champ Truck World Racing Series is set to begin in April. They have a 10-race tentative schedule for next year. Class 8 racing is the second biggest motorsport in Europe, and organizers of the new U.S. circuit have plans to keep costs down and encourage fleets to participate with just modest investments.
Talent Search winner serenades GATS
Much to the delight of the judges and the GATS-goers, Keith Sampson sang his original song, The Woman Behind the Man Behind the Wheel, to win the Trucker Talent Search sponsored by Red Eye Radio. Sampson, 50 from Rhome, Texas, drives team with his wife, Vickie, as owner-operators leased to Landstar Ranger. They haul sensitive freight with their 2014 Volvo.
Emily Weymouth of Charlton, Mass., officially began her reign as Overdrive's Most Beautiful Trucker at GATS. A total of 71 women entered or were nominated for the contest. That number was trimmed to 10 finalists, and Weymouth took the crown. Weymouth, 29, drives for Dennison Lubricants.