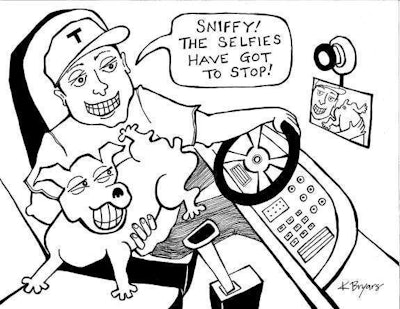 Truckers News needed some help recently, and in true trucker form, you responded.
We sought a caption for this cartoon and we got a number of witty replies.
The one we liked best came from Kerry L. Simmons, wo suggested: "Sniffy! The selfies have got to stop!" We agree, Sniffy.
Dave Briggs suggested: "Smile, Obama is watching you."
Denise Fletcher wrote: "Smile, Duke. You're on Candid Camera."
Larry Brooks added: "Man, Rosco, we're good looking!"
dhagmeir's suggested caption was: "I'm glad we stopped before doing your business on my lap. Next stop Washington DC. You can go all you want once we get there."
And, Kathe Diehl offered: "Hey! at least I'm not drinking."
Thanks to all who suggested a caption, and keep an eye out for the next cartoon in search of a caption.