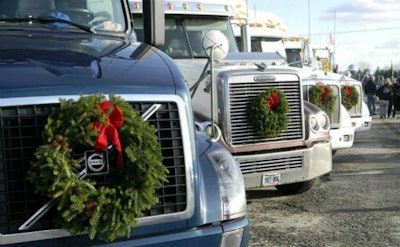 Between Sunday, Dec. 7 and Saturday, Dec. 13 many members of the trucking industry – companies and individual drivers alike – will participate in a series of events to honor the memories of men and women who served this country.
That is the time of the weeklong parade of trucks delivering remembrance wreaths to Arlington National Cemetery and other cemeteries around the country for Wreaths Across America.
Last year 80 trucking companies and drivers volunteered to haul more than half a million balsam wreaths from the Worcester Wreath Co. in Harrington, Me. to Arlington National Cemetery and more than 900 other cemeteries across the U.S. and overseas.
This year's goal is to place a wreath on 230,000 graves in Arlington National Cemetery during its 150th anniversary year, as well as graves in other cemeteries across the country.
Wreaths Across America gets a sizeable boost from the Truckload Carriers Association and Tenant Truck Lines, Inc. of Colon, Ill. in helping organizing and recruiting companies to make the many deliveries this year.
* Here are the details:
* Sign up to help make deliveries.
* Follow Wreaths Across America on Facebook
* Watch a live stream of the convoy from Maine to Arlington.
* See video of last year's trek
* Find an event along the route
* Sponsor a wreath or a box of wreaths
Here is Wreaths Across America 2014 by the numbers: