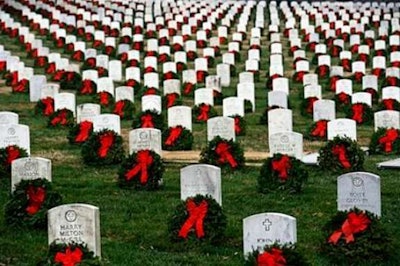 The effort to honor veterans across the U.S. still needs a little help.
The folks organizing Wreaths Across America, the effort to place remembrance wreaths on veterans' graves across the country, are looking for some support as they get ready to begin the trek from Maine to Arlington National Cemetery on Sunday (Dec. 7).
The Truckload Carriers Association (TCA) is coordinating the delivery of the balsam wreaths from the Worcester Wreath Co. in Harrington, Me. to cemeteries across the country. TCA VP Deborah Sparks said there are still 60 routes that need to be covered.
Sparks said those looking to help can go to www.TruckloadofRespect.com where they can do one of two things:
You can "Select A Route" to see what routes are open and volunteer to cover it, or click "Sponsor A Load" – where they can make a contribution to help an owner/operator with fuel costs so they can deliver a load. The average owner/operator is asking for $700-$1,000 to cover their costs.
She said there are single stop load and multi-stop loads available.
The convoy delivering wreaths leaves Maine on Sunday and arrives at Arlington National Cemetery to place wreaths on some 230,000 graves there on Sunday, Dec. 13.